Another Name is a team in Battle for Dream Island, created in "Insectophobe's Nightmare" when the teams were uneven (the Grapes had 10 contestants while the Cherries had 5), so the Announcer split the Squashy Grapes into two teams. One group was picked by Leafy and retained its name, as it had grown on Leafy. Rocky picked out the other. Firey suggested that their team be called "Squashy Grapes" as well, but Golf Ball disagreed and told him that the team name had to be "another name". The Announcer named the team "Another Name" as a result. The team consisted of Rocky, Coiny, Firey, Tennis Ball, and Golf Ball.
Members
An asterisk means they competed in season two.
An X means they competed in later seasons, but quit or were eliminated.
Strategies
Another Name is known for performing extremely poorly, being dwindled down to one member before the merge. The poor performance of the team may be because three members were armless and the other two were mortal enemies.
Trivia
This is the second shortest-lived team in the series, only lasting 3 episodes. The first is FreeSmart, only lasting one.

However, this may not be true if one counts the Newbie Alliance in BFB and FreeSmart in IDFB.

This is the first and only team to ever have only one member, being Firey, however this was very brief as the teams broke afterwards.
Golf Ball is the only female member.
Another Name is the only team that never finished 1st in a single challenge in BFDI.

They are also the only team to never have someone switch to their team.

The naming scheme was repeated in the first episode of BFB, with Golf Ball naming her team A Better Name Than That on accident.

Four may have referenced this team by calling A Better Name Than That "Another Name Than That". It also may have been an accident.

On several occasions, Rocky has cost this team the win in challenges.

In "Insectophobe's Nightmare", he vomits, causing his team to slip and settle for second place in the challenge.
In "Crybaby!", he caused his team to get trapped in a snowball resulting in a tiebreaker. Later, he vomits on Firey, making him and Coiny fight and lose the tiebreaker.

Firey is the only original Squishy Cherry on this team.
Coiny is the only male on the team who does not reach the merge in BFDI.
This is the only team that Coiny is on without Needle.
Firey is the only member of this team who doesn't compete in TPOT.
As of "The Tweested Temple", there are no more former members of Another Name remaining in BFB.
This is the first accidentally named team in the history of BFDI.
They are always laughed at and mocked when they are at Cake at Stake.
Nicknames
Gallery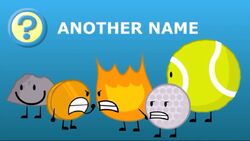 Click here to view the gallery.
---
Teams

TFI
Murderer Trout • Yelling Beavers
BFDI
Squashy Grapes • Squishy Cherries • Another Name
BFDIA
Team No-Name • W.O.A.H. Bunch •

FreeSmart

FreeSmart
BFB
A Better Name Than That • Beep • Bleh • Death P.A.C.T. • Free Food • iance • Team Ice Cube! • The Losers! • Have Cots • Have Nots • Newbie Alliance
TPOT
Are You Okay • Death P.A.C.T. Again • Just Not • Team8s • The S! • The Strongest Team on Earth.
Community content is available under
CC-BY-SA
unless otherwise noted.