"Apply to join BFDI! Animators, Audio Editors, Background/Prop Artists and More" is a video uploaded to jacknjellify on February 13, 2020. This video is about people who want to work at BFDI.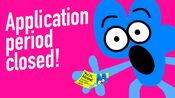 Coverage
A picture of Michael Huang pasted over another person's head comes forth and proposes various positions to the viewers.The video goes on to discuss the various requirements and skills to join, before displaying three audio files for aspiring animators to animate and submit. The audio files each originate from "Vote Yoylecake", "Bowling, Now with Explosions!", and "Hurtful!".
Application forms
The applications ended on February 24. The links here have been listed for archival purposes and responses made beyond the deadline are unlikely to be seen by Jacknjellify.
Trivia
Four's facial expression in the thumbnail is similar to the one on jacknjellify's YouTube icon.
In the video, "animators" are represented by an "a". This is the first member of the number species, albeit non-canon, that is not 4, X, a XFOHV character, or a recommended character.
Non-Canon

Characters

BeiBei • JingJing • HelloKevin • List of minor numbers • List of promotional characters • Ruby's sisters • Sam (Salmon Fiveyears)

Episodes/Videos

Thanks for 4 years! • Thanks for 4 years of Thanks for 4 years! • HELP US get to VIDCON 2019 • Happy Birthday, Battle for BFDI! • BFDI's Road to Half a Billion Views • You're A Loser, But... • List of BFDI YTPMVs • Thanks for 20,000 subscribers! (Last BFDI) • "Revenge", except every syllable is from BFDI • The BeiBei Squisher • X Finds Out His Value • ??? • Salmon Fiveyears • BFDIA 6 Deleted Scenes • The JingJing Squisher (10 year anniversary) • BFDI and II Finally Cross Over • How to Fold your Foldy • All I Want for X-mas — SONG by Four & X from BFB • Apply to join BFDI! Animators, Audio Editors, Background/Prop Artists and More • Battle for Dream Island: Official Character Guide Instagram Promotion • List of social media-exclusive animations • Aw, Seriously? • BFB Contestants React to Wiki Comments • Happy Halloween • If Among Us Was a BFDI Challenge • If X-MAS in Among Us was a BFDI Challenge • We asked TikTok to VOTE the best object - BFDI Mini • TikTok voted on our objects again: BFDI MINI DELUXE • Jingle BELL Rock 🔔 Song with Four, Bell, Seven • Thanks for 600,000 subscribers! • Thanks for 700,000 subscribers! • Thanks for 800,000 subscribers! • Thanks for 900,000 subscribers! • Thanks for 1,000,000 subscribers! • BFB TikTok Compilation • PUMPKIN 2.0 - BFDI Halloween Shorts • Message to Loser (Lyric Video) - SONG by Four from BFB • All our food does THIS... — BFDI's Best TikToks of 2020 • Hello Woody! (Now available to order) • You can help BFDI win an Award!

Others

BFDI Mini-Season - "Marbles" • Ruby's Sugar Stash • The Evil Leafy Maze Game • Tidepool