Doctor Strange in The Multiverse o Madness - The Loop
Play Sound
Avocado is a character who was up for debut in TPOT. They were recommended by WhoisThisPerson11111 and first appeared in "Lick Your Way to Freedom". They failed to join though, only receiving 2,874 votes, placing 4th.
Personality
Avocado is shown to be a bit rude and speaks their mind. Avocado also picks up on things pretty fast, as they think Two is too predictable when they are about to be eliminated.
Appearance
Avocado is an armless avocado that has a wide mouth and white eyes. Their mouth is animated differently; it resembles as if a slice was taken out of Avocado. It also shows the pit inside.
Coverage
Appearances
Battle for BFDI
In "Lick Your Way to Freedom", Avocado made their first appearance in "Lick Your Way to Freedom" when Donut is sent flying over the recommended characters.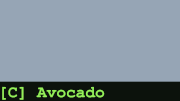 In "The Escape from Four", Avocado was selected as one of the 26 recommended characters that could join Two's new season, The Power of Two. Avocado's audition is them walking until they look at the camera and gasp, revealing their very unique open mouth.
Battle for Dream Island: The Power of Two
In "You Know Those Buttons Don't Do Anything, Right?", Avocado could be seen with the rest of the eligible debuters on the ground by the Hotel. Due to Two being high up, nobody could hear them, even after asking Nickel to bring everybody up. Two then uses their telekinesis to bring up both the contestants and the debuters.
Avocado gasps after seeing Rubber Spatula dropped through the floor and cheers when they reach the final 8. Just as Two is about to announce that they didn't get enough to join, along with Battery, Avocado interrupts, saying they already know and tells Two to attempt suspense. Avocado and Battery then voluntarily jump into the floor.
Trivia
Avocado is one of the three food TPOT debuters, along with Leek and Onigiri.

Avocado is the first fruit character.

They are the only character with a 3 dimensional mouth.
They are one of the eight TPOT debuters with white facial features along with Anchor, Camera, Clapboard, Price Tag, Shampoo, Shopping Cart, and Snare Drum.
Avocado, 9-Ball, and Onigiri were each one of the many recommended characters that were recommended on Reddit for IDFB 2, but were instead put in BFB 2. And due to being recommended on Reddit and not on Patreon, Avocado, 9-Ball, and Onigiri are the only TPOT debuters that were recommended for free.
Avocado received the most votes to join TPOT out of the debuters who didn't get enough to qualify. This excludes Nonexisty as he also didn't join, but had the votes to do so.
Avocado is one of the 11 TPOT debuters who didn't die. The others are 9-Ball, Blender, Boom Mic, Clapboard, Conch Shell, Income Tax Return Document, Onigiri, PDA, Shopping Cart, and Tape.
Gallery
---
Contestants

BFDI

Blocky • Bubble • Coiny • David • Eraser • Firey • Flower • Golf Ball • Ice Cube • Leafy • Match • Needle • Pen • Pencil • Pin • Rocky • Snowball • Spongy • Teardrop • Tennis Ball • Woody

BFDIA

Bomby • Book • Donut • Dora • Fries • Gelatin • Nickel • Puffball • Ruby • Yellow Face

IDFB

Evil Leafy

BFB

8-Ball • Balloony • Barf Bag • Basketball • Bell • Black Hole • Bottle • Bracelety • Cake • Clock • Cloudy • Eggy • Fanny • Firey Jr. • Foldy • Gaty • Grassy • Lightning • Liy • Lollipop • Loser • Marker • Naily • Pie • Pillow • Profily • Remote • Robot Flower • Roboty • Saw • Stapy • Taco • Tree • TV

TPOT

Price Tag • Winner

Hosts

Announcer • Firey Speaker Box • Flower Speaker Box • Puffball Speaker Box • Four • X • Two • Purple Face

Debuters

9-Ball • Anchor • Avocado • Battery • Blender • Boom Mic • Camera • Clapboard • Conch Shell • Discy • Income Tax Return Document • Kitchen Sink • Leek • Nonexisty • Onigiri • PDA • Rubber Spatula • Salt Lamp • Scissors • Shampoo • Shopping Cart • Snare Drum • Tape • VHSy

Extras

Bally and Marble • Cheese Orb • Firey Speaker Box's Clone • Hexagon Speaker Box • Purple Round Speaker • Spike Ball Speaker Box • Triangle Speaker Box • Lego Brick • Tune • Waffle • Portable Music Player • Clip • Steamy • Rusty Coin • Carrot Cake • CRT • Slingshot • Birthday Cake

Minor

Bozo • Bugs • Creatures of Goiky Canal • Example Contestants • Fire Monster • Fish • Fish monster (Chompy) • GO Guys • Radio Announcer • Sam • Stick Figures • Unknown Shadow

Recommended

Variations of Characters • Recurring recommended characters • Other recommended characters

Non-canon

BeiBei • HelloKevin • JingJing • Promotional characters • Ruby's sisters • Sam (Salmon Fiveyears)

Algebralians

Zero • One • Three • Five • Six • Seven • Eight • Nine • Ten • Rectangle Polygon

BFDI Mini

A duck • Evidence Bag • Frozen Yogurt • Glue • jack russell terrier dog riding very fast with speed a skateboard as skater , with sunglasses in summer vacation, taking a selfie with smartphone or cell phone • Pastel Feather • Purple Girl with Wind Hair and Angry Eyes • Rose

BFDI Mini Again

Deadly • Diamond • Electric Guitar • Juice Box • Kabab • Strudel • Tent • Vacuum

BFDI Mini Deluxe

Banana Apple • Credit Card • Lithium • Marble Bottle • Mocha • Puppet • Teabag • USB • Yellow Watermelon

BFDI Mini, Seriously!

Baby • Buttslide Man • Davidworm • Exploding David • Football Player • Frog • Johnson • Spray Can • Your Mom