Season Overview: Battle for BFDI
"
Don't you want to battle to win a prize?
"
 
Battle for BFB/BFDI

'

Country of origin

United States

Genre

Comedy/Animation/Adventure/Fantasy/Drama

Run time

November 3, 2017 – present

Video resolution

1080p

Created by

Preceded by

Simultaneous with

Number of episodes

16 (so far)

First episode

Latest episode

Music
Battle for BFB, also known as BFB and previously known as Battle for BFDI, is the fourth season of the Battle for Dream Island series and the successor to IDFB. It premiered on November 3, 2017, with the release of "Getting Teardrop to Talk".
A fifth season, called Battle for Dream Island: The Power of Two, will premiere some time after BFB 17, and will air simultaneously.
Overview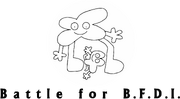 Unlike IDFB, Battle for BFDI goes back to the traditional format of challenges and eliminations, similar to the first and second seasons.
The art style is more simplified and animated more loosely, which in turn allowed the running time of the first episode to be nearly half an hour-long, and later episodes to be able to be made within a shorter time frame.
Many unexplained plot changes have happened to let new characters join the cast and for old characters to return.
The premiere episode, "Getting Teardrop to Talk", introduces the fourth season's cast as well as the new hosts, Four and X from the 2008 jacknjellify video, "X Finds Out His Value".
Although the release of IDFB confirmed the end of BFDIA, the release of BFB does not confirm the end of IDFB. Since all of the characters are present (except for Evil Leafy and Nonexisty), including the ones that were originally trapped in the Locker of Losers, this might mean that IDFB is not canceled and BFB takes place sometime in the future. However, it is highly possible, as stated by Cary in his BFB 1 reaction video.
Episodes
| Number | Name | Release date |
| --- | --- | --- |
| 1 | "Getting Teardrop to Talk" | November 3, 2017 |
| 2 | "Lick Your Way to Freedom" | November 17, 2017 |
| 3 | "Why Would You Do This on a Swingset" | December 8, 2017 |
| 4 | "Today's Very Special Episode" | December 22, 2017 |
| 5 | "Fortunate Ben" | January 12, 2018 |
| 6 | "Four Goes Too Far" | February 3, 2018 |
| 7 | "The Liar Ball You Don't Want" | February 17, 2018 |
| 8 | "Questions Answered" | March 10, 2018 |
| 9 | "This Episode Is About Basketball" | April 6, 2018 |
| 10 | "Enter the Exit" | April 28, 2018 |
| 11 | "Get to the Top in 500 Steps" | May 27, 2018 |
| 12 | "What Do You Think of Roleplay?" | July 10, 2018 |
| 13 | "Return of the Rocket Ship" | July 11, 2019 |
| 14 | "Don't Dig Straight Down" | August 24, 2019 |
| 15 | "The Four is Lava" | December 14, 2019 |
| 16 | "The Escape from Four" | March 24, 2020 |
| 17 | "BFB 17" | April 17, 2020 (currently) |
Characters
Contestants
Main article: Battle for BFDI/Elimination Table
Remaining contestants
Hosts
X (formerly; currently co-host of The Power of Two)
Donut (temporarily while Four was missing, and X was hiding)
Eliminated contestants
Contestants that rejoined
Teams