Battle for Dream Island Again

The logo (as seen in the intro).

Country of origin

United States

Genre

Reality TV/Comedy/Animation/Game Show/Competition/Quiz

YouTube Channel

Run time

June 29th, 2012 – August 1st, 2013 (technically)
Jan 1, 2014 (possibly) because of Thanks for 4 years!

Upload time

Each half a month (June 30, 2012 – August 1, 2012)
Each month (August 1, 2012 – September 1, 2012)
Irregular (September 1, 2012 – August 1, 2013)

Video resolution

1080p

Teams

Created by

Developed by

Preceded by

Succeeded by

Number of episodes

5 (9 if BFDIA 5's parts are counted)

Winner

None

First episode

Last episode

Music by

Kevin MacLeod
Battle for Dream Island Again, otherwise known as BFDIA, is the second season of Battle for Dream Island. It features 12 returning contestants from BFDI, along with 10 new contestants (6 are the recommended characters from the 1st season), which were voted onto the show by the viewers. Also, unlike the last season, the show is hosted by 3 different hosts, they are TV, Puffball Speaker Box and Firey Speaker Box, instead of the Announcer who hosted Season 1.
However, BFDIA 6 has been officially canceled, along with the rest of the season, marking it the first BFDI season to be canceled.
This was later replaced with a third season, known as IDFB, which was aired on September 1st, 2016, within the release of Welcome Back, so far it's only episode.
Overview
This season involved 22 inanimate objects (12 veterans, 10 rookies) that were voted by the viewers to compete for Dream Island, which despite declaring a winner last season, still doesn't have an owner. The contestants are divided up into 2 teams, and before a contest, players may switch teams if they want to. Contests are chosen by spinning a wheel, and the winning team gets immunity, while the losing team is up for elimination. The viewers vote by rating (liking/disliking) contestants' videos. The contestant with the most likes on his/her video can spin a wheel, and receive a prize depending on when the wheel stops, while the contestant who has the most dislikes on his/her video is eliminated and sent to the Tiny Loser Chamber, which is itself located in the Locker of Losers.
Contestants
See also: BFDIA elimination table
↑ Although Bubble was not an official BFDIA contestant, she competed on the 5 episodes on BFDIA 5, and was apparently eliminated in "The Long-lost Yoyle City".
↑

While Puffball's elimination has not yet been seen in BFDIA 6, it is confirmed in IDFB 1 that she was indeed eliminated with 1455 votes.
Returning contestants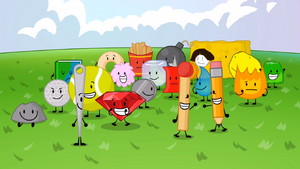 Debuting contestants
↑ 1.0 1.1 Gelatin and Golf Ball were chosen to compete in BFDIA by DegrasssiFan and InternPony707 respectively, the two contest winners.
↑ 2.0 2.1 2.2 Book, Yellow Face, and Puffball didn't originally make it, but due to Leafy, Bubble, and Flower's absence, were allowed in.
↑ Yellow Face wasn't originally allowed into the voting, but was later allowed due to all of the votes he got, and also joined the game due to Leafy, Bubble, and Flower's absence.
Non-returning contestants
A Bold name means that this contestant originally competed in the first season. An Italic name means that this contestant would've competed in BFDIA.
↑ 1.0 1.1 1.2 Leafy, Bubble, and Flower would've competed, that is, if they were alive/present at the voting results. However, they weren't, meaning they would not join.
↑

Despite not joining, TV still became the host of the season.
Recommended characters
Recommending a character is slightly different from last season. Instead of simply recommending a character in the comments section of a video, you recommend one on a Google rating system (similar to YouTube's rating system). At the end of the voting period (1st through 10th of every month), the 25 recommended characters with the most likes would be featured in the following episode. Copyrighted characters and people are not allowed to be recommended.
The link no longer works because Google Moderator has been shut down and redirects to a 404 page on bfdi.tv.
Trivia
Remaining contestants
Eliminated contestants
Episode pages
References
External links
Community content is available under
CC-BY-SA
unless otherwise noted.