Latest TPOT episode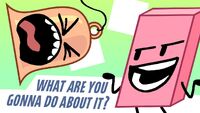 "The Worst Day of Black Hole's Life" is the 2nd episode of Battle for Dream Island: The Power of Two and the 63rd episode of the overall series. It was released on Saturday, June 18, 2022. Status updates for this episode were posted on Satomi's YouTube channel. Teardrop joins the game on a team by herself.
Fanny and Black Hole are first seen outside the Hotel.
Inside, the rest of Death Pact Again (minus Remote) is seen attempting to revive Remote. Marker is holding a paperclip, while Robot Flower is seen selling items. Lightning suggests that the team hasn't asked nicely enough for batteries. Pie asks politely to buy batteries from Robot Flower, but is given an Obliteration Gun instead.
Lightning says they haven't asked her rudely enough however Tree say why are they still trying to get a battery from her and whatever what they've tried they never gotten a battery. Cloudy appears and compliments their stack of items they have. (Full article...)
Previous episodes: "You Know Those Buttons Don't Do Anything, Right?" • Previous seasons
Did you know...
On this day...
Today (July 5):
It appears that there are no events today.
Have a great day!
---
Tomorrow (July 6):
It appears that there are no events today.
In two days (July 7):
It appears that there are no events today.
---
Yesterday (July 4):
It appears that there are no events today.
Two days ago (July 3):
It appears that there are no events today.
About
Welcome to the Battle for Dream Island Wiki! We are a collaborative encyclopedia about Battle for Dream Island, and its sequels, Battle for Dream Island Again, IDFB and Battle for BFDI. We have 1,512 articles, 241,336 files and 704 active users.
This wiki is not run directly by any member of jacknjellify. This wiki is fan-run and is not an official BFDI website. While we aim to stay as factual and true to the show as possible, we are not gospel. Information on this wiki can be incorrect, and don't refrain from doubting information and voicing your thoughts.
Battle for Dream Island is a web-series created by jacknjellify on YouTube. It revolves around a bunch of anthropomorphic objects who are competing in a competition to win the grand prize of Dream Island, a luxurious island.
Please add and share your knowledge, but vandalism and unwanted edits may lead to consequences. If you have any problems, leave a message on one of our admin's talk page.
Note that this wiki is for canonical BFDI information only. However, you're welcome to post fan-made materials on the fan page, your blog, or the fan fiction wiki.
For official BFDI news and information, check the links below.
Official links
BFDI wiki in other languages
Related wikis
Scroll to the bottom for more object show wikis!
Jacknjellify Twitter feed