Latest TPOT episode
"
You Know Those Buttons Don't Do Anything, Right?
" is the first episode of
Battle for Dream Island: The Power of Two
and the 59th episode in
the overall series
. The episode was released on Sunday, January 10, 2021. It was announced to release on Saturday, January 9, 2021 in the stinger of "
Uprooting Everything
", however, it was delayed a few hours due to glitches of the intro. It is a new show that
Two
, the host, created in "
The Escape from Four
". In this episode, two recommended characters,
Winner
and
Price Tag
joined the game, the latter serving as a replacement for
Nonexisty
, as he could not participate due to not existing.
The episode starts with TV playing a recording of Four suggesting to add back the original A BFDI as the winner's prize for Battle for BFB. Yellow Face suggests to switch back to Battle for BFB, but Fanny disapproves and says that Four had betrayed their trust. The others agree with Fanny. Fries then praises Fanny that she has the spirit of a leader, but asks if Two does any better than Four as a host, as the contestants have been waiting for ages to compete in TPOT. Two then interrupts their conversations and starts floating around the building, and then flies to the top, reminding them that it was time for Cake at Stake. The contestants as well as the RCs stare at Two blankly from the bottom of the tower. Two then uses their powers to make them float to the top of the Bathrooms. (Full article...)
Latest BFB episode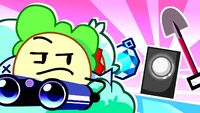 SOS (Save Our Show) is the 29th and penultimate episode of Battle for BFB and the 61st episode of the overall series. This episode is the first part of the finale; the other half will be BFB 30. The episode was released on February 12, 2021.
Nearing BFB's end, Taco starts to become suspicious of Announcer's sudden and mysterious return, so she tries to hide and figure out what's going on. Her hiding spot is poorly disguised, however, as she is immediately spotted by Spongy and Leafy. Blocky argues that Announcer is doing no harm, then suddenly shifts the topic to another one of his pranks with Woody. However, Woody runs away, uninterested in doing pranks anymore, which leaves Blocky confused. Later, Blocky tries to come up with a new nickname for Taco, failing to do so. Announcer suddenly arrives, and Cake at Stake begins.
Before Cake at Stake, Announcer shows off a revamped bus that is now made from gold, which he claims to be worth 3 million dollars. Then, he reveals the prize for getting the least votes, which is a silver medal. Before the elimination, Flower is given a bronze medal for winning the last challenge, and, apparently, for complaining that the silver medal is a downgrade from last episode's gold medal. This makes Flower boast to Gelatin about the budget she received for her business. Announcer then reveals the votes on a large, overpriced cinema screen, which reveals that Teardrop is eliminated. Announcer then starts talking about how Teardrop was their favorite character. Bubble then says that getting 3rd is something you should be proud of. (Full article...)
Previous episodes: "B.F.B. = Back From Beginning" • "Uprooting Everything" • "The Hidden Contestant" • "The Tweested Temple" • "The Game Has Changed" • More...
Did you know...
On this day...
Today (March 9): Template:BFDI events/March 9
---
Tomorrow (March 10): Template:BFDI events/March 10
In two days (March 11): Template:BFDI events/March 11

---
Yesterday (March 8): Template:BFDI events/March 8
Two days ago (March 7): Template:BFDI events/March 7

About
Welcome to the Battle for Dream Island Wiki! We are a collaborative encyclopedia about Battle for Dream Island, and its sequels, Battle for Dream Island Again, IDFB and Battle for BFDI. We have 1,343 articles, 217,957 files and 1,240 active users.
This wiki is not run directly by any member of jacknjellify. This wiki is fan-run and is not an official BFDI website. While we aim to stay as factual and true to the show as possible, we are not gospel. Information on this wiki can be incorrect, and don't refrain from doubting information and voicing your thoughts.
Battle for Dream Island is a web-series created by jacknjellify on YouTube. It revolves around a bunch of anthropomorphic objects who are competing in a competition to win the grand prize of Dream Island, a luxurious island.
Please add and share your knowledge, but vandalism and unwanted edits may lead to consequences. If you have any problems, leave a message on one of our admin's talk page.
Note that this wiki is for canonical BFDI information only. However, you're welcome to post fan-made materials on the fan page, your blog, or the fan fiction wiki.
For official BFDI news and information, check the links below.
Official links
BFDI wiki in other languages
Related wikis
Scroll to the bottom for more object show wikis!
Jacknjellify Twitter feed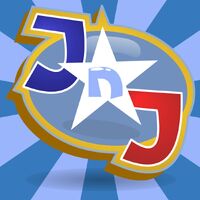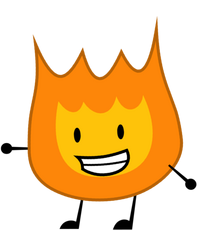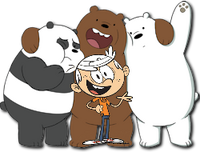 Community content is available under
CC-BY-SA
unless otherwise noted.