For the prizes used at Cake at Stake, see Cake at Stake.
Cake is a male object contestant on Battle for BFDI. He was a former recommended character who first appeared in "Cycle of Life", when Announcer said there was no Cake at Stake. He appeared to be a strawberry cake without limbs.
Cake had a chance to compete in BFDIA, but he placed 23rd with 134 votes, and got flung to the Locker of Losers.
Cake's IDFB redesign features Cake as a slice of chocolate cake, along with a puff of meringue on top and a frosting rim that is strawberry flavored.[1]
Cake had a chance to rejoin the show in "Welcome Back". He got 138 votes, tying with Grassy.[2]
Cake currently competes for The Losers! on Battle for BFDI.
Appearance
Cake appears to be a slice of chocolate fudge cake with a frosting puff on top. He also has a pink-red rim. He is almost always shown from a profile perspective because his face is on the right side of him.
Changes
BFDI 8
Cake is sentient.
Cake's face is hand-drawn.
Cake has no limbs.
Cake has white frosting dots around him.
Cake has 3 rings of red frosting around him.
BFDI 20
Cake has a face made of object assets.
Cake's torso is the normal cake asset.
Cake's eyes are smaller and his mouth is bigger in size.
Cake has arms and legs.
BFDIA =
IDFB-BFB
Cake is a slice of chocolate cake.
Cake has an ivory frosting puff on top of him.
Cake is significantly smaller.
Cake has a hot pink frosting rim at his top-right.
Cake gains shading to the right of his frosting puff.
Cake gains shading on his frosting rim to his bottom left.
Personality
Cake is generally a shy and effeminate person, not talking much until it's necessary. Cake has also been shown as a dependent person, often relying on Loser for emotional and challenge-related support, as he is very loyal towards Loser. Cake is also easily frightened.
However, his personality changed in "The Liar Ball You Don't Want", as he stated himself that there is a reason for Loser to be eliminated, despite the fact that Cake often relies on him for help and support, meaning that it's possible that Cake will get close to anyone who he thinks is capable of providing help, and immediately turns his back if he thinks the person has a bad influence.
This anger towards Loser was short-lived, however, as in "Questions Answered", Cake said he knew what the answer to the question was, but he was too afraid to say it because Loser wasn't there to support him. Cake finally got enough courage to press the button and answer correctly after Pin gave an influencing speech.
Cake is a slice of chocolate cake that blushes a lot. He has a dollop of white meringue on top of his head near a smudge of pink frosting. In case you're curious, that meringue is indeed squishy, which entices others to sit on him. Much more than other characters with their own kind, Cake strongly emphasizes with inanimate cakes, becoming excited when they're celebrated and upset when they're eaten.
Cake relies on others for emotional support, especially Loser. He clings to Loser because Loser is a nice guy.
Did You Know?: Cake's rim of pink frosting is strawberry flavored.
Coverage
Appearances
Battle for Dream Island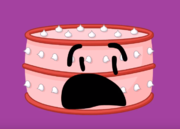 In "Cycle of Life", what could've been Cake made a brief appearance. When Announcer said that there was no Cake at Stake, a limbless Cake with mouth and eyes that was once smiling started to cower when Announcer said there was no Cake at Stake. It is not confirmed if this cake is recommended by anyone, but if it is, then he is the first ever recommended character.
In "Gardening Hero", Cake made a minor appearance as a recommended character. He was recommended by a user named MVboys.
Battle for Dream Island Again
In "Yeah, Who? I Wanna Know", Cake only got 134 votes, placing him 37th, and he was flung into the Locker of Losers along with the others who failed to join.
Battle for BFDI
In "Getting Teardrop to Talk", Cake makes his first speaking appearance in the series. He appears playing tic-tac-toe with Pie. He won the game, and then starts to blush while saying sorry to Pie. However, Pie is okay with losing.
Later on, Cake said that Loser was gonna be with him, along with Clock and Eggy. After Firey names his team The Losers!, Cake, along with the others, chanted "Loser!" three times.
During the challenge, Cake tells Loser that it's an honor to be on his team. When the basket falls on him and The Losers but Loser and Eggy, Loser saves him and the other members, but Eggy is now stuck under the basket.
In "Lick Your Way to Freedom", when Four reveals that iance gets cake when they're safe, Cake is elbowed by Loser causing him to gasp. When Ruby is safe in iance's elimination, Cake said "Yikes!" because Ruby ate the cake. He later appears being sat on by Clock.
In "Why Would You Do This on a Swingset", he gasps when iance uses Fanny to swing the full 50 swings. He suggests to do the same, but with Clock. He later figures out that Daylight Savings actually means when clocks jump forward an hour. Clock's fast clock hands swings his team to victory.
In "Four Goes Too Far", he first appears in the heart scene. He is later seen with Eggy, and contracts the Twinkle after Eggy does. Scared he would get the Twinkle again, Cake tells Loser to protect his team. One of X's old baskets shelter The Losers! from further Twinkle contracting.
He later gushes about Loser along with the other Losers but Coiny and Pin. When Bell starts to break the basket, Cake is scared. It was Clock's curiosity that made The Losers! lose.
In "The Liar Ball You Don't Want", Cake is safe with only 826 votes, the third least votes. Later, Cake is shocked when Loser is eliminated. After Loser's "lie" about the Poppers, Cake turns his back on him, stating he had to go for a reason (though it could mean he's very stress about what happen). Flower immediately deems him a "hater". He later steps on a dead Taco while Gaty looks at her through the moon.
In "Questions Answered", he is scared to buzz "glue" to the question "What is snow + gasoline?", as Loser isn't there to support him. However, Pin's motivational speech gives Cake enough courage to answer "glue" and he gets it correct.
In "Enter the Exit", he encourages Pin to squirt out Four's liquid remains in his shape in order to recover him, telling her to believe in the Loser in her.
In "Get to the Top in 500 Steps", Cake seems happy when Leafy wants to befriend him and Eggy. He later looks in horror at Needle eating Leafy's cake due to being a cake himself. He later appears happy again when Needle secures The Losers! safety.
In "Return of the Rocket Ship", after iance, Team Ice Cube! and Beep jump into the hole made by Lightning, Cake walks towards the hole saying that "Loser's spirit" is telling him to jump into the hole as well. However, he is stopped by Eggy, who says that by jumping in, he would just be a follower. After this, Cake and Eggy start arguing over which "spiritual connection" with Loser was stronger, until they're stopped by Coiny, who asks them why they're yelling so much.
In "Don't Dig Straight Down", Cake and Coiny are the only known members of The Losers! left alive when Spongy floods the surface with lava. They seek refuge in Golf Ball's Underground Factory, but are stopped on the way down the stairs by Woody and Naily, who are trying to reach the surface, seeing it as safe due to not realizing the danger there. They say that the Factory is filling with lava, but Naily notices a deprecated garbage chute, which she, Cake, and Woody fling Coiny towards so he can unscrew it. Coiny succeeds in doing so, but falls into the lava. Cake, sadly, hopes that Coiny will rest in peace. He and Naily realize that they cannot fit through the chute, but that Woody, being flat, can. The two resign themselves to their fate and tell Woody that they will throw him at it. Cake asks Woody to remember them and throws him. He is last seen burning to death in the lava.
In "The Four is Lava", Cake is recovered by Four. He, like the rest of the team, realize that Clock had been missing when he is recovered.
Votes
Season 2

| Episode | Votes |
| --- | --- |
| 1 | 134 (To join) |
Season 4

| Episode | Votes |
| --- | --- |
| 7 | 826 |
Total votes

| Elimination | Total |
| --- | --- |
| 826 | 960 |
Deaths
"Bowling, Now with Explosions!": May have burned to death while trapped in a large metal box.
"Don't Dig Straight Down": Burned up in lava.
Non-canon deaths:
"Happy Birthday, Battle for BFDI!": Eaten by numerous characters.
Trivia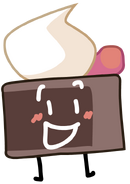 He is the only male contestant to be voiced by Kenzie Bryant.

He is also the hardest for her to voice.

A storyboard for "Today's Very Special Episode" alluded to a greater role for Cake in the next episode, "Fortunate Ben", but this didn't happen.
Cake has the closest relationship to Loser than any other contestant.
Cake had the least amount of votes out of all the The Losers! newbies in BFB 7, with only 826 votes to his name.

Cake is also the only newbie on The Losers! that did not receive a 4-digit number of votes or more.

Cake appears to be rectangular shaped, but when he is shown below, he has a triangular shape, which is due to him being a slice of a cake.
Cake is Amor Boretto's favorite character.
Cake is one of the eight food contestants, along with Pie, Eggy, Taco, Donut, Fries, Gelatin, and Lollipop.
He is one of the few contestants to have white facial features rather than the usual black. This also applies to 8-Ball, Remote, and TV.
He is so far the only character to have been seen blushing canonically.
Cake and Nickel are currently the only 2 contestants in BFB to receive the same number of votes at an elimination, with both at 826 votes. (Nickel in "Why Would You Do This on a Swingset" and Cake in "The Liar Ball You Don't Want")
There is a recommended character in The Four is Lava, named Cake's mom, that is a cake scoop.
Gallery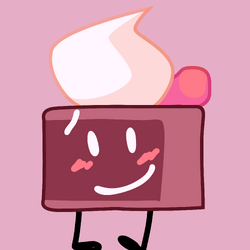 Click here to view the gallery.
See also
References
---
Contestants

BFDI
Blocky • Bubble • Coiny • David • Eraser • Firey • Flower • Golf Ball • Ice Cube • Leafy • Match • Needle • Pen • Pencil • Pin • Rocky • Snowball • Spongy • Teardrop • Tennis Ball • Woody
BFDIA
Bomby • Book • Donut • Dora • Fries • Gelatin • Nickel • Puffball • Ruby • Yellow Face
IDFB
Evil Leafy
BFB
8-Ball • Balloony • Barf Bag • Basketball • Bell • Black Hole • Bottle • Bracelety • Cake • Clock • Cloudy • Eggy • Fanny • Firey Jr. • Foldy • Gaty • Grassy • Lightning • Liy • Lollipop • Loser • Marker • Naily • Pie • Pillow • Remote • Robot Flower • Roboty • Saw • Stapy • Taco • Tree • TV

Hosts

Announcer • Firey Speaker Box • Flower Speaker Box • Four • Puffball Speaker Box • X

Non-Contestants

Camera • Example Contestants • HelloKevin • Lego Brick • Nonexisty • Purple Face • Tune • Waffle

Minor

Announcer clones • Bozo • Bugs • Cheese Orb • Fish • G and O • Sam (Salmon Fiveyears) • Sam • Stick Figures • Unknown Shadow

Recommended

Recurring recommended characters • Other recommended characters

Non-canon

BeiBei • JingJing • • Promotional characters • Ruby's sisters
Community content is available under
CC-BY-SA
unless otherwise noted.