debut
is when a brand new contestant joins 
the show
that was made by a fan/viewer of the show. Every season has at least had a debut planned at one point.
BFDI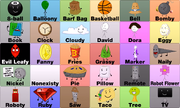 In "The Reveal", it was announced that one of 30 recommended characters will join Battle for Dream Island. In "Reveal Novum", David debuted with 102 votes.
BFDIA
Apparently, the winner of BAGUETTE was going to choose a character to join BFDIA. Due to BAGUETTE and Battle for Dream Island Again's cancellation, this never happened.
IDFB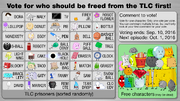 Presumably every episode, viewers could pick out a character to join the BFDIA remnants. Most of these were brand new characters who never joined BFDIA or IDFB. All of them, save for Nonexisty and Evil Leafy (who was already outside of the TLC), would later become contestants in Battle for BFDI.
BFB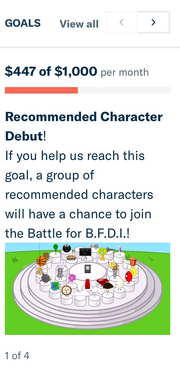 Amor Boretto announced on Twitter and the BFDI Patreon that if jacknjellify gets $1,000 pledged monthly, a debut will happen. On October 1st, 2019, the goal was met and the debut was confirmed.[1]
In "The Escape from Four", a group of assorted recommended characters pestered Two into hosting a debut, to which they buckled. 26 recommended characters were up for voting, and the winner would join TPOT.
TPOT
The recommended character that recieved the most votes in "The Escape from Four" is set to debut in TPOT 1.
References
A
Community content is available under
CC-BY-SA
unless otherwise noted.