There is a GTTTATINT wiki, which can be found here!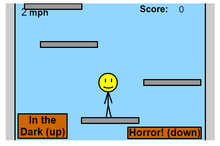 GTTTATINT (or Get To The Top Although There Is No Top!) is a game in the htwins.net site that was made by Carykh.
In the game, the main character is a stick figure called Sticky and the goal of the game is to get to the highest platform possible.
There are 100 versions of this game and in some cases there is a highest platform.
Versions
Classics
Original
Version 2
3D
Combo
Gameplay
Automatic
Super Automatic
Different Platforms Automatic
Helper
Mission: Possible
GTTEATINE!
GTTTBTIAT!
GTTTBTIAT! Easy Edition
Multiplayer
Multiplayer 2
Multiplayer 3
Grow
Skiing 
Rocket 
Fight Against the Spikes
Down
Dodge
Dodge Hard
Click
Speed
Slow-Motion
Fast-Forward
Super-Fast-Forward
Speed Up
Sugar Rush
Graphics
Arrow
Big
Wide
Tall
Flips
Squash & Stretch
Sad
Crawling
Revealing a Picture
Restricted Vision 
Other Options
Other Options 2 & Movie
Other Options 3
Glitchy 
Draw
Down Draw
Battle for Dream Island
Platforms
Different Platforms
Obstacle Course
Smaller Jumps & More Platforms
One Platform at a Time
Small Platforms 
Centered Platforms
Differently-Sized Platforms 
Ghosts!
The Magic Touch
Double Up
Bouncy
Changing Platforms
Slow, Reappearing Shrinkage
Fast, Temporary Shrinkage
Snap to Platform
Move Down on Impact
Move Up on Impact
Faster Panning on Contact
Panning Up on Contact
Some Platforms Faster Than Others
Platforms Move Down Randomly
Moving Platforms
Color
Color
More Color
Color Change
Lava
Panning
2D Panning
No Panning For You
Panning Differently
Slowly Speeds Up
Zoom
Bullets
Powerful Bullets
Powerful But Slow Bullets
Powerful & Fast Bullets
Earthquake
Ultra-Enhanced Earthquake
Enhanced Earthquake 
Earthquake In All Directions
Earthquake Left & Right
Physics
Low Control
Slippery Slope
Higher Jumps
Windy
Sucked Toward the Left
No Big Jumps
Fast Falling
Slow Falling
No Moving in the Air
No Moving on the Ground
"Fun" 
"Too Far!"
Get to 100 Points & Move Down Every 100 Points
Solid
Solid 2
Educational
Educational
Educational Hard
Trivia
Out of the 100 versions there is a BFDI version.
The game exists in the BFDI universe, as shown in A Leg Up in the Race, where it is played on a BFDI DDS.
This game made a reference in the title of Get to the Top in 500 Steps.
In Obstacle Course, assets of Pencil, Needle, Pen and Match are seen.
Community content is available under
CC-BY-SA
unless otherwise noted.