Gaty is a female contestant on Battle for BFDI and The Power of Two.
Gaty only received 54 out of the 15,532 votes to join Battle for Dream Island Again, so she was flung to the Tiny Loser Chamber. She placed 55th.
In IDFB, Gaty received 51 votes[1], which was not enough to join. Her new design is a picket gate, lavender-colored and lilac with bright gold hinges.
In Battle for BFDI, Gaty competed on

until the split in "The Escape from Four", when she switched to Two's show.
In Battle for Dream Island: The Power of Two, Gaty is currently competing on Team8s.
Appearance
Gaty appears to be a wooden picket gate with 3 pickets and 2 hinges made of neodymium alloy. Her central picket is a lighter grayish blue, her outer pickets are a warm grey and blue, and her hinges are a golden color.
Changes
BFDI 20
Gaty is unpainted.
Gaty is a fence gate.
Gaty has a board across her middle.
Gaty has 2 boards on her top and bottom.
Gaty's top part of the top board is designed.
Gaty's face is smaller.
BFDIA
Gaty has a larger and different face.
Gaty has much thinner outlines.
IDFB
Gaty is periwinkle and light lavender.
Gaty is shaded.
Gaty has golden hinges.
Gaty is smaller.
Gaty is a picket gate.
Gaty is leaner.
BFB - TPOT
Gaty's asset has slightly changed, as her top triangular bits are morphed slightly to the bottom left-ish.
Gaty's outlines are very slightly darker.
Personality
Gaty is a voice of reason, though her reason often leads her to criticize others. Despite this, Gaty holds herself to the same standards and is not scared to admit her mistakes.
Gaty can be quite critical towards some people, such as Flower in "Fortunate Ben" when she calls her idiotic. She is also shown to be quite irritable, as when Saw gets affected by the Twinkle of Contagion from Earth in "Four Goes Too Far", she immediately calls out Saw for looking at Earth. This is further shown in "Get to the Top in 500 Steps" when she intervenes between Book and Lollipop and sternly tells them they have no time to be arguing.
In "This Episode is About Basketball", she is shown to be somewhat passive-aggressive when she says, "if only there were somebody on our team who is specialized in throwing!" (most likely meaning the at-the-time deceased Taco).
In "What Do You Think of Roleplay?", Gaty is also shown to have no fear of speaking out against others and can be very smug, seeing as she went as far as taunting Four because they couldn't eliminate her.
Despite showing no fear when taunting others, she acts cowardly once the people she taunts have the chance to do anything back. In "The Four is Lava", she's scared of Four eliminating her to the point where she cries in despair. Similarly, she sighs in relief when her team is declared safe in "You Know Those Buttons Don't Do Anything, Right?".
Gaty is a wooden picket fence gate with two hinges made from a neodymium alloy. She holds other characters to a high standard, studying each character's behavior and letting them know what she believes they are doing is wrong. Her favorite number is 3, but 2,147,483,647 is a close second.
Gaty believes that caring about what others think of oneself is shameful. Yet she expects people to care about what she thinks of them.
Did You Know?: Without her exquisite paint color, Gaty would be the same color as Cake.
Abilities
Magnetization: Gaty can magnetize her hinges at will.
Coverage
Appearances
Battle for Dream Island
Gaty's first appearance in the series is in "Gardening Hero", as one of the many gaspers.
In "Return of the Hang Glider", Gaty watches the final Cake at Stake of the season.
Battle for Dream Island Again
In "Yeah, Who? I Wanna Know", Gaty gets 54 votes. That is not enough to join, so Gaty and the other contestants that failed to join are sent by a giant Sender Scoop Thrower to the TLC.
IDFB
Gaty is given a second chance to join. All of her appearances in the TLC have her idling, which can be seen when some of the characters inside try to break out.
Battle for BFDI
Her first appearance is in the pentagon scene of "Getting Teardrop to Talk", where she is seen sitting down, looking at Saw. She is later seen with Nickel, Cloudy and 8-Ball. When Leafy asks her to be friends, Gaty doesn't want to, saying that she "doesn't know much about her yet". This results in a negative response from Leafy. She then reveals to 8-Ball that her favorite number is three when asked.
Book and Ice Cube are the first ones to join Gaty's team after refusing to join Pencil and Match's team. Shortly after, Gaty asks Saw to join her team, bringing along Saw's friends Lollipop and Taco. When naming her team, Gaty and the other members of the team say their names all at once, forming team name

.

takes off into The Desert in pursuit of the basket. Taco later leads her team into The World's Largest Oven, where Ice Cube, Lollipop, and Teardrop die. Their next stop is molten lava, where Gaty and Taco both burn off-screen. However, Saw brings back the basket to deem safety for her team.
In "Lick Your Way to Freedom", as Four explains the challenge Gaty is shown to be trapped in a Jawbreaker. She is freed from a jawbreaker by Loser and Pin. Her hinges get magnetically attracted to Pin's point.
In "Why Would You Do This on a Swingset" she is first seen on her team's swingset. She is saddened by Taco's death, stating that it was a "tragedy". Later, Saw tells her team to push through, giving them safety from elimination and Taco. Gaty isn't shown to be angry at Taco, unlike the rest of her team.
In "Today's Very Special Episode", after seeing Bracelety get sucked up with a smile, Gaty comments that she went out strong and that it's clear she didn't care about what others thought of her.
In "Fortunate Ben", she is first seen with Flower, and deems Flower (who earlier listened to Ruby's "fashion tips") to be "idiotic". Her team's plane never hit the ground.
In "Four Goes Too Far", she hitches a ride on ABNTT's rocket and heads to space. In space, Gaty is annoyed at Saw for catching the Twinkle, but she herself gets it shortly after. The two teams start to have a stare-off. When Bell gets the Twinkle, thanks to Taco, Gaty is joyed. However, the rocket breaks, stranding them on the Moon.
"The Liar Ball You Don't Want" shows

still stranded on the Moon. Gaty looks through a telescope to see a flattened Taco, upon which Gaty comments on her appearance being the same from above.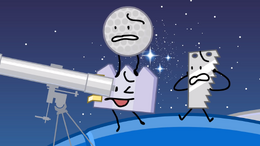 When Basketball explains her plan to use the rocket's transmitter dish to transmit signals to Remote, Gaty says that the rocket is still broken. However, the communicator dish isn't broken. Book, oblivious to that, dips a chip inside as she has filled it with nacho cheese, and eats it. Robot Flower then closes the connection between herself and Remote to save everyone on the Moon.

is safe again.
In "Questions Answered", Gaty is brought back to Earth thanks to Donut. Her only line is telling Donut that his audio recording of Four's screech isn't real, and therefore doesn't have any effect. (although Donut gets screeched with the same recording seconds after). Her team is safe thanks to Saw.
In "This Episode Is About Basketball", Gaty confronts X for being in Fries the entire time even though he appeared to be factored into Donut and Four. She is mad when Book and Teardrop miss their shots, stating that she wishes that there were somebody "who's specialized in throwing".
In "Get to the Top in 500 Steps", Gaty intervenes between Book and Lollipop, telling them they have no time to argue right now and they need to focus on the challenge. She tells Book that they should send up Dora to do the challenge, reminding her that she wanted to learn more about her in "Getting Teardrop to Talk".
When Dora doesn't move, she wonders why she thought it was a good idea to send her up, but Dora quickly moves into a running position. She and Book continue to watch Dora until she eventually dashes up the stairs, placing her team second.
In "What Do You Think of Roleplay?", Gaty questions why the teams can't abuse the system of the challenge by guessing the impostor one by one until they are correct. Four then asks her what's stopping them from eliminating her, to which Gaty taunts them, saying they can't eliminate her because no one voted for her. Four responds by zapping her, knocking her over.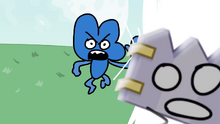 During the challenge, Gaty is upset due to the process of elimination being her only idea, causing them to have to come up with another strategy. She later presses Taco to share her strategy to win. Taco accuses Teardrop, which causes Teardrop to expose that Taco was actually Pin, securing

's safety.
In "Return of the Rocket Ship", Gaty greets Saw after she returns, and asks if she's okay after Saw screams "G-EIGHT-y". Saw insists she is fine and that the scent cleanse she received has worked. Gaty also informs Saw of what has been happening lately on the team (mostly regarding the Taco and Book conflict). Gaty becomes more concerned about Book's belief that Taco and Saw have "betrayed"

.
This issue reaches a head during the contest, in which they haven't even started due to Book watching Taco as she keeps her distance from the team. Gaty takes Book aside to lecture her on her beliefs, and says that she should look herself up inside herself (due to Book being a dictionary). Book initially gets frustrated, but takes Gaty's words to mind, and reconsiders her actions.
In "Don't Dig Straight Down", Gaty, along with Dora, Teardrop, Saw, and Lollipop, become trapped under lava after Lollipop saves them from being melted with her Fork Repellent (which also repels lava). The team ends up losing after not finding an emerald, and the Fork Repellent runs out.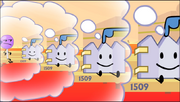 In "The Four is Lava", Gaty, along with Dora, Saw, Lollipop, and Teardrop, are revealed to have dug a hole underground in order to escape the lava and have been using Lollipop's Fork Repellent stash to keep the lava away from them. As Saw expresses her worries about her team not being able to do Cake at Stake, Gaty nervously responds that if none of them leave the hole, none of them will be eliminated. While Saw tries to reason with her that it would be unfair to the other teams, Gaty yells that she doesn't want to be eliminated and begins sobbing, while Saw comforts her.
After getting brought to the Cake at Stake area by Four, she expresses joy over being able to see Taco again, and apologizes on behalf of all her teammates over how they have been treating her. She then realizes that there are only seven members of Team

present, and notes how they are missing Book. Later, Gaty is declared safe with 1,509 votes, much to her relief, as her happy thought is being safe on loop.
After the Cake at Stake, she brushes aside Book when she tries to talk to her. When Four tries to explain the contest, she tells them that everyone left alive is really far away and that they wouldn't be able to hear them. Gaty is last seen getting burnt to death by some lava coming out of Four's eye.
In "The Escape from Four", Gaty is recovered after dying in the last episode and walks over to watch Four struggle at sucking up Spongy. She later quits BFB to compete on Two's new show, The Power of Two.
Battle for BFB
In "SOS (Save Our Show)", Gaty, along with Saw and Pin, appears when Ruby suggests splitting BFB into two shows.
Battle for Dream Island: The Power of Two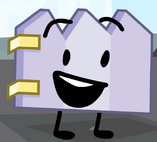 In "You Know Those Buttons Don't Do Anything, Right?", Gaty reassures Saw that she's still here for her when Saw admits she misses Lollipop and Taco. When Book asks to join the two on a team together, Gaty tells her that she knows that she's trying to be better, but that she should get some new friends, walking away with Saw afterwards. Gaty and Saw later join Barf Bag's team since they are all zigzags, and Barf Bag accepts. When Coiny wants to name their team W.O.A.H. Bunch, Gaty calls the idea stupid and suggests that they be called "The Zigzags", prompting a small argument within the team. Saw then names the team Team8s on accident, annoying Gaty. During the challenge, when the rest of her team is up on the roof, Saw tells Donut to hold her out over the edge so Gaty's hinges could be magnetically attached to her. Their team is then declared safe. At the end of the episode, Gaty yells at Two as everyone attacks them.
In "The Worst Day of Black Hole's Life", Gaty is first seen questioning Two about when the votes changed. She also helps Two remember that they were announcing the next one safe. Gaty agrees with the contestants on leaving before the intro since they won't have a lot of free time before the challenge. When Two sets a 25 minute timer, Gaty asks why not 30 minutes. Two also finds this weird and they sit down to talk about it. Later, Gaty and Two are shown still chatting, now on a couch while enjoying drinks. Two vents to Gaty about how they don't know what they really want to be, outside of what people assigned them to be. Gaty responds that when she likes being something it's because they got to decide it for themselves, such as their periwinkle coloring and being a girl. Two takes solace in the fact that they at least chose to be a host when Pin shows up. She says that her team is using glue to cheat in the challenge, which Gaty agrees is unfair. Two doesn't seem to have a problem with it so Gaty walks with Pin to stop their team, saying goodbye to Two as they head off. When they both arrive to confront their team, Gaty is caught off guard by how tall their stack of blocks is and decides they shouldn't scrap their progress just because it's glued together. As Gaty talks to her team about Two, Bell attempts to knock down their stack, only to get her string tangled thanks to the glue. As a result, she starts carrying their stack everywhere trying to get it off, and Gaty and the rest of the team follow her to get it back. Gaty's team is safe with the tallest stack, so Two gives them a token. Coiny says that it looks like him, but Gaty reminds him that he's orange.
Relationships
Main article: Gaty/Relationships
Votes
Season 2

| Episode | Votes |
| --- | --- |
| 1 | 54 (to join) |
Season 4

| Episode | Votes |
| --- | --- |
| 15 | 1,509 |
Total votes

| Elimination | Total |
| --- | --- |
| 1,509 | 1,563 |
Deaths
"Getting Teardrop to Talk": Burned to death (off-screen) after swimming through lava.
"The Four is Lava": Burnt to death by a splash of lava from Four.
Non-canon deaths:
"If Among Us Was a BFDI Challenge": Sucked into Black Hole.
Trivia
Comparison
Competition
Gaty is the only armless member of Team8s.
General
Gaty's favorite number is 3.

This could possibly be because she appears to be made of 3 pickets.

Gaty's hinges are magnetic as they were attracted to Pin's point, it can be assumed that the two have different polarities.

Her hinges are made from a neodymium alloy.[2]

Both of Gaty's deaths have been from lava.
Gaty's body, despite being made of wood, has a very high heat tolerance, as she was not charred or damaged by the flames of Golf Ball's Rocket in BFB 6. She was also able to swim in molten lava for some time, though she eventually died from it.

Yet she dies quickly when splattered with lava in BFB 15.

Her OMG phrase is "Oh my plank".
Gaty's true color is similar to that of Cake's color.[2]

In BFB 16, there is an RC called "Unpainted Gaty".
It is also similar to the color of her old design.

Gaty appears to have a reoccurring fear of being eliminated, or rather facing elimination in general.
In BFDIA 1, Gaty's mouth is upside-down.
It is heavily implied in TPOT 2 that Gaty is transgender, likening her choosing of gender identity to her choosing of paint color.

This also implies that the recommended characters changed their own designs themselves in IDFB and BFB.
Gallery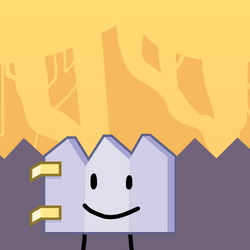 Click here to view the gallery.
See also
References
---
Contestants

BFDI

Blocky • Bubble • Coiny • David • Eraser • Firey • Flower • Golf Ball • Ice Cube • Leafy • Match • Needle • Pen • Pencil • Pin • Rocky • Snowball • Spongy • Teardrop • Tennis Ball • Woody

BFDIA

Bomby • Book • Donut • Dora • Fries • Gelatin • Nickel • Puffball • Ruby • Yellow Face

IDFB

Evil Leafy

BFB

8-Ball • Balloony • Barf Bag • Basketball • Bell • Black Hole • Bottle • Bracelety • Cake • Clock • Cloudy • Eggy • Fanny • Firey Jr. • Foldy • Gaty • Grassy • Lightning • Liy • Lollipop • Loser • Marker • Naily • Pie • Pillow • Profily • Remote • Robot Flower • Roboty • Saw • Stapy • Taco • Tree • TV

TPOT

Price Tag • Winner

Hosts

Announcer • Firey Speaker Box • Flower Speaker Box • Puffball Speaker Box • Four • X • Two • Purple Face

Debuters

9-Ball • Anchor • Avocado • Battery • Blender • Boom Mic • Camera • Clapboard • Conch Shell • Discy • Income Tax Return Document • Kitchen Sink • Leek • Nonexisty • Onigiri • PDA • Rubber Spatula • Salt Lamp • Scissors • Shampoo • Shopping Cart • Snare Drum • Tape • VHSy

Extras

Bally and Marble • Cheese Orb • Firey Speaker Box's Clone • Hexagon Speaker Box • Purple Round Speaker • Spike Ball Speaker Box • Triangle Speaker Box • Lego Brick • Tune • Waffle • Portable Music Player • Clip • Steamy • Rusty Coin • Carrot Cake • CRT • Slingshot • Birthday Cake

Minor

Bozo • Bugs • Creatures of Goiky Canal • Example Contestants • Fire Monster • Fish • Fish monster (Chompy) • GO Guys • Radio Announcer • Sam • Stick Figures • Unknown Shadow

Recommended

Variations of Characters • Recurring recommended characters • Other recommended characters

Non-canon

BeiBei • HelloKevin • JingJing • Promotional characters • Ruby's sisters • Sam (Salmon Fiveyears) • Lightbulb

Algebralians

Zero • One • Three • Five • Six • Seven • Eight • Nine • Ten • Rectangle Polygon

BFDI Mini

A duck • Evidence Bag • Frozen Yogurt • Glue • jack russell terrier dog riding very fast with speed a skateboard as skater , with sunglasses in summer vacation, taking a selfie with smartphone or cell phone • Pastel Feather • Purple Girl with Wind Hair and Angry Eyes • Rose

BFDI Mini Again

Deadly • Diamond • Electric Guitar • Juice Box • Kabab • Strudel • Tent • Vacuum

BFDI Mini Deluxe

Banana Apple • Credit Card • Lithium • Marble Bottle • Mocha • Puppet • Teabag • USB • Yellow Watermelon

BFDI Mini, Seriously!

Baby • Buttslide Man • Davidworm • Exploding David • Football Player • Frog • Johnson • Spray Can • Your Mom
Species
---
Genera

Objects
Blocky • Bubble • Coiny • Eraser • Firey • Flower • Golf Ball • Ice Cube • Leafy • Match • Needle • Pen • Pencil • Pin • Rocky • Snowball • Spongy • Teardrop • Tennis Ball • Woody • Bomby • Book • Donut • Fries • Gelatin • Nickel • Puffball • Ruby • Evil Leafy • 8-Ball • Balloony • Barf Bag • Basketball • Bell • Bottle • Bracelety • Cake • Clock • Cloudy • Eggy • Fanny • Foldy • Gaty • Grassy • Lightning • Liy • Lollipop • Loser • Marker • Naily • Pie • Pillow • Remote • Saw • Stapy • Taco • Tree • TV • Profily • Price Tag • Winner
Stick figures
Stick figure
Davids
David • Dora
Faces
Yellow Face • Purple Face
Robots
Robot Flower • Roboty
Speaker Boxes

Announcer ( Clones) • Firey Speaker Box • Flower Speaker Box • Puffball Speaker Box

Algebralians
Four • X • Two
Creatures
Creatures of Goiky Canal

Others

Black Hole • Nonexisty
---
Contestants

8-Ball • Balloony • Barf Bag • Basketball • Bell • Black Hole • Bomby • Bottle • Book • Bracelety • Cake • Clock • Cloudy • David • Donut • Dora • Eggy • Evil Leafy • Fanny • Firey Jr. • Fries • Gaty • Gelatin • Grassy • Lightning • Lollipop • Marker • Naily • Nickel • Pie • Pillow • Profily • Price Tag • Puffball • Remote • Robot Flower • Roboty • Ruby • Saw • Taco • Tree • TV • Winner

Debuters

9-Ball • Anchor • Avocado • Battery • Blender • Boom Mic • Camera • Clapboard • Conch Shell • Discy • Income Tax Return Document • Kitchen Sink • Leek • Nonexisty • Onigiri • PDA • Rubber Spatula • Salt Lamp• Scissors • Shampoo • Shopping Cart • Snare Drum • Tape • VHSy

Extras

Bally and Marble • Birthday Cake • Clip • CRT • Lego Brick • Portable Music Player • Rusty Coin • Slingshot • Steamy • Tune • Waffle

Character variations

Evil versions • Duos • Character fusions • Plush versions • Rainbow versions • Relatives of characters • Robot versions • Smaller versions • Alternate gender versions • LGBTQ+ versions • Baby versions

Other RCs

BFDI

BFDI 12 • BFDI 13 • BFDI 14 • BFDI 15 • BFDI 16 • BFDI 17 • BFDI 18 • BFDI 19 • BFDI 20 • BFDI 21 • BFDI 22 • BFDI 23 • BFDI 24 • BFDI 25

BFDIA

BFDIA 1 • BFDIA 2 • BFDIA 3 • BFDIA 4 • BFDIA 5a

BFB

BFB 2 • BFB 4 • BFB 6 • BFB 7 • BFB 9 • BFB 10 • BFB 12 • BFB 13 • BFB 14 • BFB 15 • BFB 16 • BFB 17 • BFB 18 • BFB 19 • BFB 20 • BFB 21 • BFB 22 • BFB 23 • BFB 24 • BFB 25 • BFB 26 • BFB 27 • BFB 28 • BFB 29 • BFB 30

TPOT

TPOT 1 • TPOT 2