Doctor Strange in The Multiverse o Madness - The Loop
Play Sound
HelloKevin is a character that appeared in and originated from the joke video "BFDI APPISIOTE 225555555!!!!!", in which he was the host.
HelloKevin's personality is unknown, since he is non-sentient, and has only had 1 canon appearance.
Appearance
Overview
He is a slipper with a Hello Kitty "ripoff" character on it named "Hello Kevin". He is made of navy blue fabric, and his soles are sandy brown.
It appears that Michael Huang is the current owner of him as of 2017.
Changes
HelloKevin is a real slipper.
HelloKevin is clean.
Twitter
BFB 9
Coverage
In "BFDI APPISIOTE 225555555!!!!!", he is the host as well as the producer of the singular episode.
In the Jacknjellify Twitter, HelloKevin reappeared after a long hiatus as the infamous slipper. In the short video, a pair of HelloKevins are tossed in the air at slow motion. They are visibly dirty, indicating that they were put in storage for some time. The video can be seen here.
Also seen in the Jacknjellify twitter, Michael had stated that HelloKevin was off-screen in "Why Would You Do This on a Swingset".[3]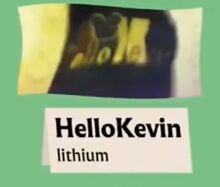 In "This Episode Is About Basketball", HelloKevin appears as a recommended character. He appears as a picture of the slipper and not as a cartoon design. He is hit by a ball just like all the other recommended characters.
Trivia
References
Non-canon content

Characters

BeiBei • JingJing • HelloKevin • List of minor numbers • List of promotional characters • Ruby's sisters • Sam (Salmon Fiveyears)

Episodes/Videos

Thanks for 4 years! • Thanks for 4 years of Thanks for 4 years! • Thanks for 4 years of Thanks for 4 years of Thanks for 4 years! • HELP US get to VIDCON 2019 • Happy Birthday, Battle for BFDI! • BFDI's Road to Half a Billion Views • You're A Loser, But... • List of BFDI YTPMVs • Thanks for 20,000 subscribers! (Last BFDI) • "Revenge", except every syllable is from BFDI • The BeiBei Squisher • X Finds Out His Value • ??? • Salmon Fiveyears • BFDIA 6 Deleted Scenes • The JingJing Squisher (10 year anniversary) • BFDI and II Finally Cross Over • How to Fold your Foldy • All I Want for X-mas — SONG by Four & X from BFB • Apply to join BFDI! Animators, Audio Editors, Background/Prop Artists and More • Battle for Dream Island: Official Character Guide Instagram Promotion • List of social media-exclusive animations • Aw, Seriously? • BFB Contestants React to Wiki Comments • Happy Halloween • If Among Us Was a BFDI Challenge • If X-MAS in Among Us was a BFDI Challenge • We asked TikTok to VOTE the best object - BFDI Mini • TikTok voted on our objects again: BFDI MINI DELUXE • Jingle BELL Rock 🔔 Song with Four, Bell, Seven • Thanks for 600,000 subscribers! • Thanks for 700,000 subscribers! • Thanks for 800,000 subscribers! • Thanks for 900,000 subscribers! • Thanks for 1,000,000 subscribers! • BFB TikTok Compilation • PUMPKIN 2.0 - BFDI Halloween Shorts • Message to Loser (Lyric Video) - SONG by Four from BFB • All our food does THIS... — BFDI's Best TikToks of 2020 • Hello Woody! (Now available to order) • You can help BFDI win an Award! • The Loser Plush is here! • The Official Four and X Plush • BFDI: Claustrophobe's Nightmare • BFDI: Twosday • BFDI: Fish and Chips

Others

BFDI Mini-Season - "Marbles" • Ruby's Sugar Stash • The Evil Leafy Maze Game • Tidepool
---
Contestants

BFDI

Blocky • Bubble • Coiny • David • Eraser • Firey • Flower • Golf Ball • Ice Cube • Leafy • Match • Needle • Pen • Pencil • Pin • Rocky • Snowball • Spongy • Teardrop • Tennis Ball • Woody

BFDIA

Bomby • Book • Donut • Dora • Fries • Gelatin • Nickel • Puffball • Ruby • Yellow Face

IDFB

Evil Leafy

BFB

8-Ball • Balloony • Barf Bag • Basketball • Bell • Black Hole • Bottle • Bracelety • Cake • Clock • Cloudy • Eggy • Fanny • Firey Jr. • Foldy • Gaty • Grassy • Lightning • Liy • Lollipop • Loser • Marker • Naily • Pie • Pillow • Profily • Remote • Robot Flower • Roboty • Saw • Stapy • Taco • Tree • TV

TPOT

Price Tag • Winner

Hosts

Announcer • Firey Speaker Box • Flower Speaker Box • Puffball Speaker Box • Four • X • Two • Purple Face

Debuters

9-Ball • Anchor • Avocado • Battery • Blender • Boom Mic • Camera • Clapboard • Conch Shell • Discy • Income Tax Return Document • Kitchen Sink • Leek • Nonexisty • Onigiri • PDA • Rubber Spatula • Salt Lamp • Scissors • Shampoo • Shopping Cart • Snare Drum • Tape • VHSy

Extras

Bally and Marble • Cheese Orb • Firey Speaker Box's Clone • Hexagon Speaker Box • Purple Round Speaker • Spike Ball Speaker Box • Triangle Speaker Box • Lego Brick • Tune • Waffle • Portable Music Player • Clip • Steamy • Rusty Coin • Carrot Cake • CRT • Slingshot • Birthday Cake

Minor

Bozo • Bugs • Creatures of Goiky Canal • Example Contestants • Fire Monster • Fish • Fish monster (Chompy) • GO Guys • Radio Announcer • Sam • Stick Figures • Unknown Shadow

Recommended

Variations of Characters • Recurring recommended characters • Other recommended characters

Non-canon

BeiBei • HelloKevin • JingJing • Promotional characters • Ruby's sisters • Sam (Salmon Fiveyears)

Algebralians

Zero • One • Three • Five • Six • Seven • Eight • Nine • Ten • Rectangle Polygon

BFDI Mini

A duck • Evidence Bag • Frozen Yogurt • Glue • jack russell terrier dog riding very fast with speed a skateboard as skater , with sunglasses in summer vacation, taking a selfie with smartphone or cell phone • Pastel Feather • Purple Girl with Wind Hair and Angry Eyes • Rose

BFDI Mini Again

Deadly • Diamond • Electric Guitar • Juice Box • Kabab • Strudel • Tent • Vacuum

BFDI Mini Deluxe

Banana Apple • Credit Card • Lithium • Marble Bottle • Mocha • Puppet • Teabag • USB • Yellow Watermelon

BFDI Mini, Seriously!

Baby • Buttslide Man • Davidworm • Exploding David • Football Player • Frog • Johnson • Spray Can • Your Mom