Lo-Fi Beats to Yoyle To (formerly Lo-Fi Beats to Yoyle To — BFB 21 on Friday, July 3) is a video on the Jacknjellify channel. It premiered at 11:30 AM EST. The previous title and thumbnail confirmed the release date of "Let's Raid The Warehouse": July 3, 2020.
It includes a clip from jacknjellify's Twitter.[1]
List of segments
Donut's Diary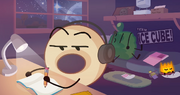 It includes Donut writing in his second diary, while Gelatin and Firey Jr. are sleeping. The video also ends with this segment, when Donut finishes writing and turns the lamp off.
Ruby's math problems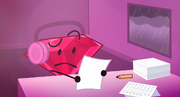 Ruby is doing her times tables in a room that looks like Match's house, as it rains outside.
Bomby and Flower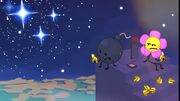 Flower and Bomby sit at the top of the steps from "Get to the Top in 500 Steps" eating bananas. They are sharing one earphone while listening to music on a device that looks like a phone, or an MP3 player.
Bell, Book, and Golf Ball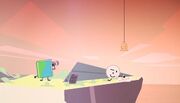 Book, Golf Ball, and Bell are seen on the edge of the Cliffside, Book is looking through binoculars and Golf Ball is drawing. Music is also playing from the recorder from BFB 8.
Barf Bag and Naily
Barf Bag and Naily are relaxing at the hot spring in the Inverted Planet. Music is playing out of a boombox.
Dora, Lollipop, and Taco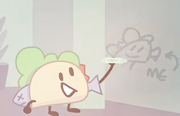 Dora, Lollipop, and Taco are seen in their team's room, Dora is staring at the wall while Lollipop seems to be reading a book called How To Be So Very Dumb, but is actually watching Taco who is drawing herself on the wall.
Pin in a boat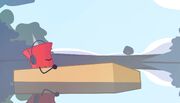 Pin is relaxing in the Squishy Cherries wooden boat from "Take the Plunge" as it floats on a lake.
Bubble in space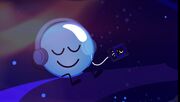 Bubble is relaxing while floating around in Space. The Announcer and Spongy's private jet can also be seen in the background.
Puffball flying over Davidland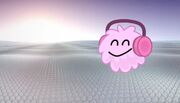 Puffball is happily flying over Davidland with headphones on.
EXIT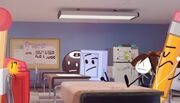 Pencil is in the EXIT listening to music through earphones while putting her leg on the table, Firey Jr. is noticeably bored.
Mechanical minds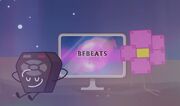 Remote is relaxing as TV plays music, then the camera pans out to reveal Robot Flower also listening to the music.
BFDIA 5b comeback
Lego Brick is alone, listening to music from a boombox with a bored look on his face. He is trapped inside a box, in 032. I need you for something from BFDIA 5b. Just like in the level, there is a treadmill pushing Lego Brick against a wooden wall, a yellow switch is inside the box, and black spikes and an exit door is outside of it.
X on the Equation Playground
X is sitting under a tree in the Equation Playground from "X Finds Out His Value" listening to music as Six blows bubbles in the background.
Trivia
Dialogue plays from Coiny and Pin in "Four Goes Too Far", Pin and Book in "Don't Dig Straight Down", and Balloony and Four in "Take the Tower".
The title of the video and the visual appearance of Donut's section are a reference to the livestream "lofi hip hop radio - beats to relax/study to", which plays a playlist of lo-fi chill music over a looped animation.

The title of the video uses the word Yoyle as a verb.

This video has the highest percentage of likes out of all of jacknjellify's videos at 98.81% as of January 21, 2021.
References