Spider-Man: No Way Home Trailer Dropped - The Loop
Play Sound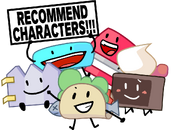 Recommended characters, in the simplest form, are fan characters "recommended" by fans of the series. While Bomby made a cameo appearance in "Insectophobe's Nightmare", recommended characters officially debuted in "Lofty". All but one of the recommended characters in BFDI last made an appearance in the last episode of BFDI.
In "Reveal Novum", only one character per one recommender was allowed due to "budget cuts", which was the in-story reason. The real reason is unknown. This restriction was removed in BFDIA.
In BFDIA, the characters were recommended using Google Moderator, and 25 recommended characters with the highest score were picked to be displayed in the episode.
In BFB and later seasons, character recommendations can be done on the community section of jacknjellify's Patreon, or by becoming a member on Jacknjellify's YouTube channel.
Jacknjellify has decided to end recommended characters.[1] According to the end of this message,[2] these will be back soon.
List of recommended character subpages
*single character by jaysillyboy (or BlueJay as known now)
Boombox is a recommended character that lives in Yoyleland which advertised the Leafy Detector, used to find Leafy. It was recommended by Anko6, who is the creator of another object show called Brawl of the Objects, which Boombox was in.
External links
---
Contestants

BFDI

Blocky • Bubble • Coiny • David • Eraser • Firey • Flower • Golf Ball • Ice Cube • Leafy • Match • Needle • Pen • Pencil • Pin • Rocky • Snowball • Spongy • Teardrop • Tennis Ball • Woody

BFDIA

Bomby • Book • Donut • Dora • Fries • Gelatin • Nickel • Puffball • Ruby • Yellow Face

IDFB

Evil Leafy

BFB

8-Ball • Balloony • Barf Bag • Basketball • Bell • Black Hole • Bottle • Bracelety • Cake • Clock • Cloudy • Eggy • Fanny • Firey Jr. • Foldy • Gaty • Grassy • Lightning • Liy • Lollipop • Loser • Marker • Naily • Pie • Pillow • Profily • Remote • Robot Flower • Roboty • Saw • Stapy • Taco • Tree • TV

TPOT

Price Tag • Winner

Hosts

Announcer • Firey Speaker Box • Firey Speaker Box's Clone • Flower Speaker Box • Hexagon Speaker Box • Puffball Speaker Box • Purple Round Speaker • Spike Ball Speaker Box • Triangle Speaker Box • Four • X • Two • Purple Face

Debuters

9-Ball • Anchor • Avocado • Battery • Blender • Boom Mic • Camera • Clapboard • Conch Shell • Discy • Income Tax Return Document • Kitchen Sink • Leek • Nonexisty • Onigiri • PDA • Rubber Spatula • Salt Lamp • Scissors • Shampoo • Shopping Cart • Snare Drum • Tape • VHSy

Minor

Announcer clones • Bozo • Bugs • Carrot Cake • Cheese Orb • Creatures of Goiky Canal • Example Contestants • Fire Monster • Fish • Fish Monster • GO Guys • List of minor numbers • Radio Announcer • Sam • Stick Figures • Unknown Shadow

Character variations

Evil versions • Duos • Character fusions • Plush versions • Rainbow versions • Relatives of characters • Robot versions • Smaller versions • Genderbent versions

Recommended

Bally and Marble • Lego Brick• Tune • Waffle • Portable Music Player • Clip • Steamy • Rusty Coin • CRT • Slingshot • Birthday Cake • Recurring recommended characters • Other recommended characters

Non-canon

BeiBei • HelloKevin • JingJing • Promotional characters • Ruby's sisters • Sam (Salmon Fiveyears)

Algebralians

Zero • One • Three • Five • Six • Seven • Eight • Nine • Ten • Rectangle Polygon

BFDI Mini

A duck • Evidence Bag • Frozen Yogurt • Glue • jack russell terrier dog riding very fast with speed a skateboard as skater , with sunglasses in summer vacation, taking a selfie with smartphone or cell phone • Pastel Feather • Purple Girl with Wind Hair and Angry Eyes • Rose

BFDI Mini Again

Deadly • Diamond • Electric Guitar • Juice Box • Kabab • Strudel • Tent • Vacuum

BFDI Mini Deluxe

Banana Apple • Credit Card • Lithium • Marble Bottle • Mocha • Puppet • Teabag • USB • Yellow Watermelon

BFDI Mini, Seriously!

Baby • Buttslide Man • Davidworm • Exploding David • Football Player • Frog • Johnson • Spray Can • Your Mom
---
Contestants

8-Ball • Balloony • Barf Bag • Basketball • Bell • Black Hole • Bomby • Bottle • Book • Bracelety • Cake • Clock • Cloudy • David • Donut • Dora • Eggy • Evil Leafy • Fanny • Firey Jr. • Fries • Gaty • Gelatin • Grassy • Lightning • Lollipop • Marker • Naily • Nickel • Pie • Pillow • Profily • Price Tag • Puffball • Remote • Robot Flower • Roboty • Ruby • Saw • Taco • Tree • TV • Winner

Debuters

9-Ball • Anchor • Avocado • Battery • Blender • Boom Mic • Camera • Clapboard • Conch Shell • Discy • Income Tax Return Document • Kitchen Sink • Leek • Nonexisty • Onigiri • PDA • Rubber Spatula • Salt Lamp• Scissors • Shampoo • Shopping Cart • Snare Drum • Tape • VHSy

Non-contestants

Bally and Marble • Birthday Cake • Clip • CRT • Lego Brick • Portable Music Player • Rusty Coin • Slingshot • Steamy • Tune • Waffle

Character variations

Announcer clones • Evil versions • Duos • Character fusions • Plush versions • Rainbow versions • Relatives of characters • Robot versions • Smaller versions • Genderbent versions

Other RCs

BFDI

BFDI 12 • BFDI 13 • BFDI 14 • BFDI 15 • BFDI 16 • BFDI 17 • BFDI 18 • BFDI 19 • BFDI 20 • BFDI 21 • BFDI 22 • BFDI 23 • BFDI 24 • BFDI 25

BFDIA

BFDIA 1 • BFDIA 2 • BFDIA 3 • BFDIA 4 • BFDIA 5a

BFB

BFB 2 • BFB 4 • BFB 6 • BFB 7 • BFB 9 • BFB 10 • BFB 12 • BFB 13 • BFB 14 • BFB 15 • BFB 16 • BFB 17 • BFB 18 • BFB 19 • BFB 20 • BFB 21 • BFB 22 • BFB 23 • BFB 24 • BFB 25 • BFB 26 • BFB 27 • BFB 28 • BFB 29 • BFB 30

TPOT

TPOT 1