Wiki Targeted (Entertainment)
Play Sound
Rubber Spatula is one of the former eligible debuters for TPOT. They lost the vote at 177 votes, which is the least out of everybody.
Personality
Rubber Spatula is calm and timid. Shown by them getting low-spirited upon learning they aren't debuting, assuming that nobody likes them. However they can have their mood turned around easily, demonstrating being grateful for their voters in a positive manner.
Appearance
Rubber Spatula has a yellow scraper with a white handle holed at the end. In "The Four is Lava", Rubber Spatula's arms are located lower.
Coverage
Appearances
Battle for BFDI
Rubber Spatula made their first appearance in "The Four is Lava" during the credits sequence. They were seen simply standing in place.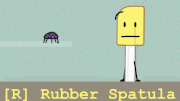 In "The Escape from Four", Rubber Spatula was selected as one of the 26 recommended characters that could join Two's new season, The Power of Two. In Rubber Spatula's audition, they are seen standing next to a shelf with a bug on it. Rubber Spatula notices the bug and looks concerned. They then use their face to swat the bug; which works, but Rubber Spatula's face is covered in a sticky dark grey goop. Rubber Spatula could be voted by commenting "[R]".
Battle for Dream Island: The Power of Two
In "You Know Those Buttons Don't Do Anything, Right?", Rubber Spatula could be seen with the rest of the eligible debuters on the ground by the Hotel. Due to Two being high up, nobody could hear them, even after asking Nickel to bring everybody up. Two then uses their telekinesis to bring up both the contestants and the debuters. Afterwards, the Cake at Stake starts.
Two starts off by saying that everyone got at least 200 votes, with Clock saying that it's good to know. Two then says that they were kidding, and that Rubber Spatula only received 177 votes, which is the least votes. Two laughs at the fact and says that Rubber Spatula isn't debuting. Rubber Spatula is in disbelief and thinks that nobody likes them. Pen tries to cheer up Rubber Spatula by saying that over a hundred people liked them more than everyone else. Rubber Spatula realizes this, and Pen drops TV, whom displays every user who voted for Rubber Spatula, as Rubber Spatula reads off every one of their voters. Two asks them to hurry up, so they talk faster. Two asks again and they talk extremely fast. Once Rubber Spatula finishes, Two asks if Rubber Spatula is finished, and Rubber Spatula says "Yep!". Two says that's good, and claps, making the tile beneath them disappear and descend into the hotel below.
Rubber Spatula can be seen very briefly when Two and the TPOT contestants are going down the elevator, where they are seen in a room with Income Tax Return Document looking upset.
Kills
Trivia
Rubber Spatula, Two, TV, Portable Music Player, Winner, Purple Face, and Tree are the only characters who don't have American accents.

In Rubber Spatula's case, they speak with an Australian accent.

Rubber Spatula and Blender are both recommended by Papiomike.
Their line, "I can't believe it! Nobody likes me!" could be a reference to Roboty saying "NOBODY LIKES ME" (in Morse code) as both were the least voted to debut.
Gallery
---
Contestants

BFDI

Blocky • Bubble • Coiny • David • Eraser • Firey • Flower • Golf Ball • Ice Cube • Leafy • Match • Needle • Pen • Pencil • Pin • Rocky • Snowball • Spongy • Teardrop • Tennis Ball • Woody

BFDIA

Bomby • Book • Donut • Dora • Fries • Gelatin • Nickel • Puffball • Ruby • Yellow Face

IDFB

Evil Leafy

BFB

8-Ball • Balloony • Barf Bag • Basketball • Bell • Black Hole • Bottle • Bracelety • Cake • Clock • Cloudy • Eggy • Fanny • Firey Jr. • Foldy • Gaty • Grassy • Lightning • Liy • Lollipop • Loser • Marker • Naily • Pie • Pillow • Profily • Remote • Robot Flower • Roboty • Saw • Stapy • Taco • Tree • TV

TPOT

Price Tag • Winner

Hosts

Announcer • Firey Speaker Box • Firey Speaker Box's Clone • Flower Speaker Box • Hexagon Speaker Box • Puffball Speaker Box • Purple Round Speaker • Spike Ball Speaker Box • Triangle Speaker Box • Four • X • Two • Purple Face

Debuters

9-Ball • Anchor • Avocado • Battery • Blender • Boom Mic • Camera • Clapboard • Conch Shell • Discy • Income Tax Return Document • Kitchen Sink • Leek • Nonexisty • Onigiri • PDA • Rubber Spatula • Salt Lamp • Scissors • Shampoo • Shopping Cart • Snare Drum • Tape • VHSy

Minor

Announcer clones • Bozo • Bugs • Carrot Cake • Cheese Orb • Creatures of Goiky Canal • Example Contestants • Fire Monster • Fish • Fish Monster • GO Guys • List of minor numbers • Radio Announcer • Sam • Stick Figures • Unknown Shadow

Character variations

Evil versions • Duos • Character fusions • Plush versions • Rainbow versions • Relatives of characters • Robot versions • Smaller versions

Recommended

Bally and Marble • Lego Brick• Tune • Waffle • Portable Music Player • Clip • Steamy • Rusty Coin • CRT • Slingshot • Birthday Cake • Recurring recommended characters • Other recommended characters

Non-canon

BeiBei • HelloKevin • JingJing • Promotional characters • Ruby's sisters • Sam (Salmon Fiveyears)

Algebralians

Zero • One • Three • Five • Six • Seven • Eight • Nine • Ten • Rectangle Polygon

BFDI Mini

A duck • Evidence Bag • Frozen Yogurt • Glue • jack russell terrier dog riding very fast with speed a skateboard as skater , with sunglasses in summer vacation, taking a selfie with smartphone or cell phone • Pastel Feather • Purple Girl with Wind Hair and Angry Eyes • Rose

BFDI Mini Again

Deadly • Diamond • Electric Guitar • Juice Box • Kabab • Strudel • Tent • Vacuum

BFDI Mini Deluxe

Banana Apple • Credit Card • Lithium • Marble Bottle • Mocha • Puppet • Teabag • USB • Yellow Watermelon

BFDI Mini, Seriously!

Baby • Buttslide Man • Davidworm • Exploding David • Football Player • Frog • Johnson • Spray Can • Your Mom