The Squashy Grapes is a team in Battle for Dream Island.
The team included ten characters originally picked by Leafy in "Take the Plunge: Part 2". The team had a 4 contest winning streak from BFDI 2 to BFDI 5. In "Insectophobe's Nightmare", the team, with 10 characters, was split up into 2 teams due to the imbalance between it and the Squishy Cherries. One team's name remained as Squashy Grapes, while the other team's name was Another Name. The Squashy Grapes have won the most of the challenges of season 1.
Members
An asterisk means they competed in season 2.
An X means they are currently eliminated or quit in season 4.
Original members
Other members
Trivia
The original Squashy Grapes performed better than the Squishy Cherries, losing only two challenges compared to the Squishy Cherries' six.
They are the first team to win more than twice in a row.
Coiny is the only male contestant on the team to not make it past the merge in BFDI.
Leafy is the only member of the original team who made it to the final 3.
Flower is the only contestant who left the team when it wasn't split.
All of the Squashy Grapes members who rejoined were female.

In contrast, all of the Squishy Cherries members who rejoined were male.

Snowball is the only original male on the team that does not compete in BFDIA.

At the same time, Snowball also had the worst shot at joining out of the entire team, as Leafy had enough votes but wasn't present and Golf Ball was picked by a contest winner, despite not getting enough votes to join.

Teardrop and Ice Cube are the only members of the split Squashy Grapes that compete in BFDIA.

Coincidentally, they would later be the only original contestants on in BFB.

A member of the Squashy Grapes is always the first up for elimination in every season so far. The entire team in BFDI, Coiny in BFDIA, and Flower and Snowball in BFB.
Flower, Teardrop, and Leafy are the only original members of the team who compete in BFB after the split, all are female.
Firey and Blocky are the only male members of the Squashy Grapes in BFB after the split. Coincidentally, neither are original members of the team.
This is the only team Golf Ball was on in the series that didn't have "name" in the title.
Gallery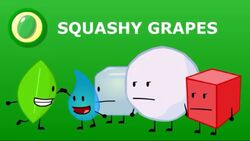 Click here to view the gallery.
---
Teams

TFI
Murderer Trout • Yelling Beavers
BFDI
Squashy Grapes • Squishy Cherries • Another Name
BFDIA
Team No-Name • W.O.A.H. Bunch •

FreeSmart

FreeSmart
BFB
A Better Name Than That • Beep • Bleh • Death P.A.C.T. • Free Food • iance • Team Ice Cube! • The Losers! • Have Cots • Have Nots • Newbie Alliance
TPOT
Are You Okay • Death P.A.C.T. Again • Just Not • Team8s • The S! • The Strongest Team on Earth.
Community content is available under
CC-BY-SA
unless otherwise noted.