The Squishy Cherries is a team on Battle for Dream Island. The team included ten characters chosen by Pin in "Take the Plunge: Part 2".
Members
An asterisk means they competed in season 2. An X means they competed in later seasons but quit or were eliminated.
Original members
Other members
Trivia
When the team name was announced, Blocky expressed disappointment with the name.
In "Insectophobe's Nightmare", Snowball called the Squishy Cherries the "Mushy Berries".
This is the only team to not have all the members reappear in Battle for Dream Island Again.
All of the team members who rejoined were male.

In contrast, all of the Squashy Grapes members who rejoined were female.

Both the highest and lowest-ranked contestants in Season 1, Woody at 21st and Firey at 1st, were on the Squishy Cherries.
They are the only team that has ever lost more than 3 times in a row.
After Spongy's elimination in episode 3, the Squishy Cherries had no armless members until episode 11, when Rocky joined the team.
Bubble is the only female Squishy Cherry who competed in only two seasons.
All of the teams in BFB had at least one member of the original Squishy Cherries with the exception of .
Pin is the only member of the Squishy Cherries who has yet to reach the merge in any season.
Pin is the only member of the Squishy Cherries who has been in every season of the show.
Eraser, Pen, and Pin are the only Squishy Cherries in TPOT.

Coincidentally, they are the three who had the most votes to be eliminated in "Power of Three".

As of "The Hidden Contestant", there are no more former members of the Squishy Cherries remaining in BFB.
Nicknames
Gallery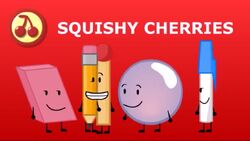 Click here to view the gallery.
---
Teams

TFI
Murderer Trout • Yelling Beavers
BFDI
Squashy Grapes • Squishy Cherries • Another Name
BFDIA
Team No-Name • W.O.A.H. Bunch •

FreeSmart

FreeSmart
BFB
A Better Name Than That • Beep • Bleh • Death P.A.C.T. • Free Food • iance • Team Ice Cube! • The Losers! • Have Cots • Have Nots • Newbie Alliance
TPOT
Are You Okay • Death P.A.C.T. Again • Just Not • Team8s • The S! • The Strongest Team on Earth.
Community content is available under
CC-BY-SA
unless otherwise noted.