Back to the main Unused or unseen content page.
Throughout the history of Battle for Dream Island, there exists content that was not generally intended to be seen, noticed, or otherwise was lost to the basic audience at one point in time. Content here could include items from the drawings (TFI, TFP), the show (BFDI, BFDIA, IDFB, BFB, TPOT), hidden content out of bounds in .fla files for animations, or other media that is BFDI related.
The post-split BFB source files can now be found here; saved by Bookeymations before removal.
Please note that for all intents and purposes, none of the information documented is considered to be canon with the rest of the series.
Storyboard Pieces
Unused Symbols
Unused Bitmaps
Earlier Balloony, Lollipop, and Four Scene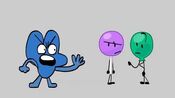 RickToons shared an early version of his scene in BFB 17. It looks exactly like how it was in the episode, except Four is making different facial expressions when saying, "One is still not four!"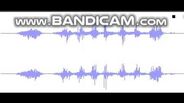 Scene 1 Animatic
An animatic of the first scene of the episode, featuring Gelatin.
Altered Four Line
There is an altered version of Four saying 'You can bring him back?' in the 17-6 fla.
Altered 17-8 Audio
There is an altered version of the scene 8 audio.
The differences was that we didn't hear Ruby scream in the animation & also Four said "Quit Squabbling" twice.
This audio wasn't used because it had a few mistakes.
Altered 17-11/17-14 Audio
There is an altered version of the scene 11 (or chronologically scene 14) audio, Ruby's voice pitch is off and her scream is missing.
Plump Dog Body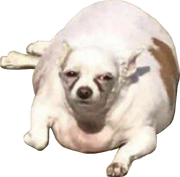 An image of an extremely obese chihuahua lying down. This may have been used as reference for drawing the recommended character, Plump Dog. This is also present in the files for "Take the Tower" and How Loe Can You Grow?".
17-13/17-16 Animatic
There exists an animatic in 17-13siclecandies (or chronologically scene 16)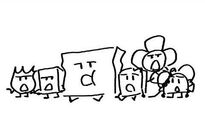 Creepy Four and X
In 17-27 enda.fla, in the last few frames there is an unnerving facial expression Four and X make after X said "Then I'm happy as well." This was done as a joke. The expressions Four and X make is a possible reference to Sr Pelo's Undertale parody "Underpants", in the Chara scene in the genocide route, where the face originated from.
I Have POWER!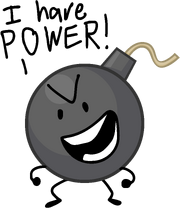 Bomby saying "I have POWER!".
Hi it's me, Saw
A image of Saw with handwritten text reading "Hi it's me, Saw".
Woody with 7 emeralds
An image of Woody with 7 emeralds, being based off the emeralds from BFB 14 and is referencing Sonic the Hedgehog's Chaos Emeralds.
Spade was here
Spade can be found hidden in one of RickToons' scenes offscreen.
Two-shaped Four
When Four offers the A BFDI as a prize again, he can be seen drawn in Two's shape offscreen.
Unused Symbols
Storyboards
Unused Bitmaps
Weird Ruby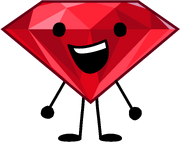 In 18-14 WoopDoo.fla, there is weird expression of Ruby in symbol called rubee between frames 1-514 before she says her line after Gelatin in the next scene.
Monkey GIFs
An image of a monkey with a toothbrush, brushing its teeth. Interestingly, there are a total of 81 copies of this image in the files, with all of them being dated July 17th, 2019 at 8:55 PM.
David Smiley Face
A smiley face made out of 23 Davids is hidden in 18-7 allen.fla.
Early Vote Scoreboard Text
Early hand-drawn versions of the text on the vote scoreboard.
Woody cheering with Have Nots
In 19-17 Ivan.fla, Woody is seen cheering with his team, however, he isn't seen cheering in the actual episode, due to being dead earlier in the episode.
Ivan Bitmap 3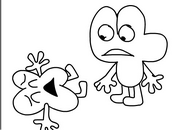 TAD Bitmap 3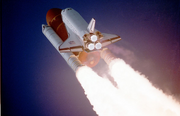 Naily
Storyboard Pieces
Spaceship Landing Scene
In Cary's reaction to BFB 20, Cary says that there was going to be a last-minute scene of the ship landing on the sun, but because it was "so last minute", as Cary said, no animators did it. This is because Cary didn't indicate it in the storyboard, which led to the animator of the scene not knowing that the spaceship should land on the sun as a last-minute scene. [1]
"
Oh yeah, we were planning on adding a last minute scene right there with the ship actually landing on the sun. But, because it was so last minute, no one did it. Um... Basically, I think. If I want something to be in the episode, I'd better include it in the storyboard, so that it doesn't feel like a last minute bodge.
"
 

— Cary, CARY REACTS TO BFB 20
Scene fading to black
In 20-7 ivan.fla, right after Ruby was sent to the BRB, the screen fades to black. This is not shown in the actual episode.
Ruby's extended role
According to Sam Thornbury on the Battle for Dream Island Wiki Discord, Ruby was intended to have a larger role in the episode, but was cut due to her elimination. She was intended to make sun angels rather than Gelatin. This may also explain why Ruby was present on the sun after her elimination.
Earlier Unedited Scene
dhunHERO shared an early/unedited version of his scene in BFB 20. It shows the stuff that was originally done by an animator, but was later changed/redone in the final product.
Source files
A majority of the BFB 20 source files are missing, even after when the BFB 17+ flas were released.
Storyboard Pieces
gelatin_and_bfb_torture.wav
A loud audio snippet taken from the beginning of the YouTube video Wikipedia - **** and ball torture. It is unknown why this audio is present.
no_copyright_law_in_the_universe_is_going_to_stop_me!.mp3
Another audio snippet, taken from the 2010 video game Sonic Colors. It is also unknown why this audio exists.
Happy Pride Month image props
In 21-16FlorenceFINAL.fla, there are un-edited/unfinished props for symbols 1-12 that were used for the Happy Pride Month image posted by jacknjellify.
Purple Face Subplot
According to Cary Huang in CARY REACTS TO BFB 21, there was going to be a subplot with Purple Face in Yellow Face's Warehouse. This was dropped due to time constraints and was later pushed back to Fashion For Your Face!
Dramatic break-off scene
Originally in BFB 21, when the Have Nots and Have Cots go their different ways for the challenge in the warehouse, it was going to be more dramatic with the Have Nots being on a theater stage, and have them do crazy dances, which would explain why Gelatin calls them weird. This was scrapped because it was unnecessary and "they didn't have time for that" [2]
Team Ice Cube!
The team with all of the members of Team Ice Cube in 22-14 The Bird Gang.fla.
Reference image for the inside of the courthouse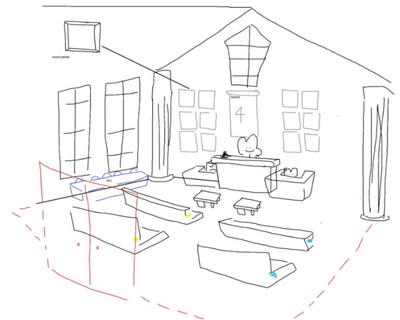 A picture that was most likely used for reference was found behind the courtroom background in the 22-10 Allen.fla.
BFB 29 as BFB 22
BFB 22 was originally going to BFB 29's plot, where the budget would go down. Unlike BFB 29, the "quality change" would be from BFDI S1 animation, to Total Firey Island "animation".
However, Sam decided to go with the "Who Done It" episode. The Budget Cuts Episode would later be reused in SOS (Save Our Show).
Lollipop swearing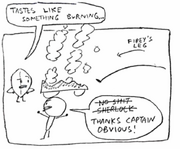 In the storyboard video of "Fashion For Your Face!", the scene where after the Have Cots discover the High Speed Express Train had been destroyed by Firey, Lollipop would have interjected "No shit Sherlock." It is likely that for this reason the video was unlisted by Jacknjellify approximately 20 minutes after it was uploaded. The video was later listed again 1 hour and 40 minutes later with the train scene being partially trimmed and a blur being added over the profanity.
Storyboard
Bomby Squad

PRETEND IT'S ON FIRE LOL

Big Chungus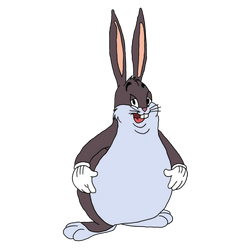 In 23-12 WoopDoo.fla, an image of Big Chungus can be seen.
Trampoline and Volume References
23-6chris.png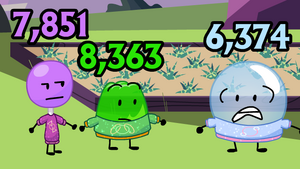 A screenshot of the elimination result.
MWAHAHA hello.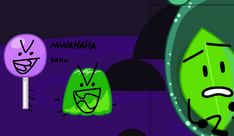 In the 23-28 (Yellow),fla file, there can be an image of Gelatin and Lollipop saying MWAHAHA hello. for a couple seconds.
Flower and Blocky sketch
In the 23-22 (Allen),fla file, there is a sketch of Flower and Blocky.
Weird Four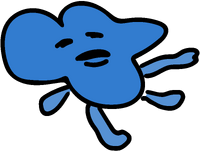 24-17poly.fla
In 24-17poly.fla, you'll find several drawings scattered all over.
Storyboard pieces
Four and X References
In 25-2yellow.fla, there are poses of Four and X that are likely used to draw them in the animator's style.
3D Four Bitmaps
In 25-13Florence.fla, there are five screenshots of placeholder Four assets made in Blender. They were likely used to practice drawing Four at an angle.
i hate this angle
Same as above, this red drawn number four was used to practice drawing at an angle.
Ruby's Hidden Cameo
In 25-7poly, Ruby appears in frames 421-447 at the left outside of the border. She also appears in 26-10POLLY.fla.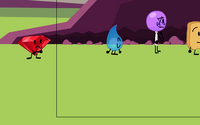 Weird Four
In 25-3 Dubuc Spherigon Goon ttguy.fla, there is an unusual drawing of Four that serves as a joke.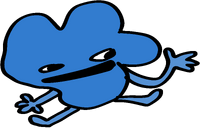 Archaic Temple placeholders
These are sketches of the temple that are used as placeholders in 25-10 Spherigon.fla, as the finished background was likely a WIP at the time.
Rock Pickaxe
In 25-25saka.fla, there is an item called rock pickaxe that doesn't seem to appear or be used in the episode at all, leaving it unused.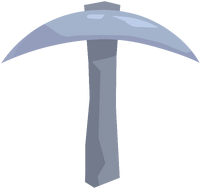 Storyboard pieces
Willow
A drawing of Willow, an oc of James, can be found offscreen in 26-6a james.fla.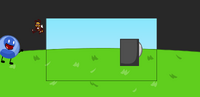 In 26-10POLLY.fla, Ruby appears on the left outside of the border when Four recovers X, with Flower looking at her confused in the episode. This is a reference to Ruby accidentally being present outside the BRB in BFB 20, as she does the same pose otherwise.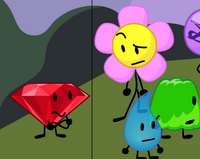 Character rigs
In 26-24MostlyFlorence_StanimatorTooALittleBit.fla, character rigs are shown. Gelatin's arms are also completely missing.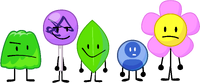 Unused Four Snapping
In 26-11, There is a Unused Version of Four snapping Profily to the BRB.
Symbols
Bitmap 2
In 27-1b (Donato).fla, there is an image of a dog wearing a pirate outfit found in the library of the file. The dog in this image is Rat, a dog owned by YouTuber BadBoyHalo, found here.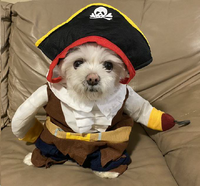 Flower Height Guide
In 27-3 GuyGoon.fla, this shows Flower in different heights, this is likely used for reference to draw Flower's correct height.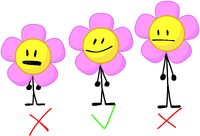 Bitmap 4 & 5
In 27-4, there is a cropped image of Lollipop's asset.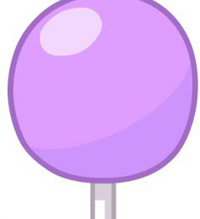 crt reference
In most flas of BFB 27, there is a reference sheet of CRT.

Lollipop JK
In 27-5 ivan.fla, after Lollipop says her line before heading to the BRB, she slides in from the left of the border in the last couple frames with BFDI limbs with the abbreviations JK (just kidding). This also happens with Gelatin in 26-19ivan.fla.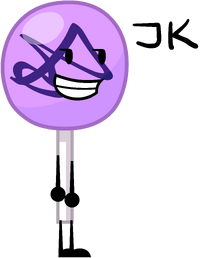 Source files
Like with the BFB 20 source files, a majority of the files are missing.
Sad Face

In 27-5 ivan.fla, when lollipop is talking to four a sad face is shown near the wheel of the bus.
Storyboard Pieces
Animatic
An animatic of the first half of 28-2.fla, which can be found in said file.
Symbols
Color palettes
In 28-1allen, you can see a rectangle containing Four and X's colors. The red color is used for the tongues. Below it you can also see "6 brush".


Friday Night Funkin' BF
In 28-8, between frames 297 - 396, The "Hey" pose of the Boyfriend from the 2020 video game, Friday Night Funkin' can be seen off screen.

Off-screen Ruby
Ruby appears off-screen in 28-8 (poly).fla, just like in 25-7poly.fla and 26-10POLLY.fla, as reference to the error in BFB 20. But this time, for 4 frames Ruby goes into a pose from BFB 12.

Unused Announcer Line
In 28-27sic.fla
Off Screen Jar Jar

Dream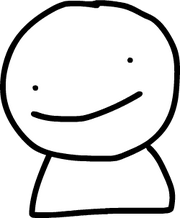 Early Draft
The episode was originally going to release sometime around March 2021, but was delayed to April 9th, 2021 because of it being described as "a lot worse if we rushed it for a March deadline". This supposedly means that there's an early draft or scrapped version of BFB 30 planned for March 2021.
Scrapped Songs
Giving Four a Hand
Giving Four a Hand was a track that was supposed to play when Four in the sun was remembering the memories of BFB.[3]
Dawn of a New Day
Dawn of a New Day was a track that was supposed to play when Firey and Leafy were about to sail to find another dream island.[4]
References