"People who are my enemy's enemies are my friends"
- EclipseEpic (talk) 09:14, September 12, 2019 (UTC)
Hey User! Welcome to my profile! Book Fans and Lollipoop Haters are welcomed here! :)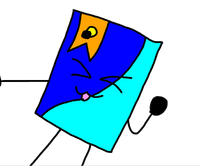 Personality
EclipseEpic, formally known as Eclipse, is very kind, social and patient. She likes Book in every four seasons. Sometimes, she can get pushed easily and hates Lollipop, as she describe her as a know-it-all. She sometimes can be in indecisive and sometimes she can talk too much. She is also very intelligent due to her being an air sign.
Top 5 Favorite
1 Book
2 Blocky
3 Pen
4 Grassy
5 Taco
Short messages
To YoyleBook,
I'm glad that you like Book and Blocky :) I also like your character too! Keep it up!
To Triple,
It's sad how you got banned and now you are back! I am lucky to have you back :)
To BattleReviews,
It's happy that you were with me doing the role play of the Zodiac! Thanks for playing :)
To HollyTang,
You are a the greatest friend that I have ever met! You help me to ban trolls and imposters, your awesomeness has been improved!
Roblox - SEOMinecraftgamer (you can friend me if you want)
Minecraft - EclipseEpic
Pokemon Masters - BFDIBook
My Singing Monsters
Any questions about my profile? Talk to me in the talk page!
Community content is available under
CC-BY-SA
unless otherwise noted.