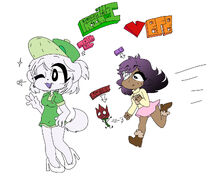 Because yes
Hi! I'm Kimi, your average dumb person who is a weeb!
PossiblyKimi, or just "Kimi", is a female who is a tv, robot hybrid, whatever that crap is. Kimi doesn't like to reveal to much information about herself, so it's best if you keep the private questions to yourself. Kimi is planning on an object show called "Battle of the Dorks". Sadly, the blue female thinks it will be a total failure. She also hates sophisticated things.
Kimi doesn't share opinions that much, because she feels that she can't even have opinions.
Kimi is a dorky "woman" who can be kind and thoughtful of others. However, she can be pretty sensitive when is comes to flirting, or love. She also hates racism, so don't say anything bad about race so you don't get hurt.
look down :3
names that I go by
Epic gal
Weeb
Jerkdooky Failsateverythinger
Person
Stranger
Memey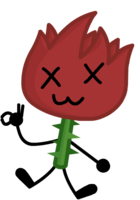 My OCs
Rosey- Rosey is a very outgoing girl. She is kind towards those who don't treat her like garbage. She loves walking out at night, which doesn't go as planned. She also known for being a namby pamby, trying to do everything to please her snooty friends. She can't doing anything around Violety, and hides a secret about her secret weapons...
Violety- Violety is the one you do not want to be around. She is snooty, rude, cruel, and overprotective. Deep down, she has a soft spot. She is very abusive to Rosey and bullies her for no reasonable reason. But, it could be because she wants her to be more stronger in life. She feels bad that Rosey had to go through BS. Otherwise, Violety is just a rude girl who doesn't want anyone messing with her.
Pocket- This girl is mysterious. Pocket's favorite thing to do is eavesdrop on people, learning about their latest secrets. She video records their conversations with others. wip
Community content is available under
CC-BY-SA
unless otherwise noted.