Sup.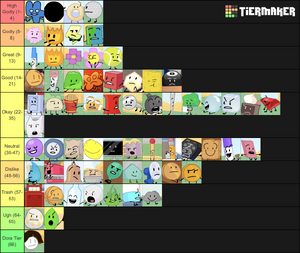 Likes
*Smash Bros
*Power
*Any Undertale lovers
*Opinion Respecters
*Camps
Dislikes
*Shipping
*Comment Spam
Who I will vote next
iance: Snowball (Get that rage of yours outta here!)
BLEH: Teardrop (Just go talk already! Nobody will care, though.)
BEEP: Rocky (Disgusting and bland. -Gordon Ramsay)
The Losers: Eggy (Eggcellent! I get to eliminate her!)
Death PACT: Pie (Bland, bad voice, mistook her for a male because of this)
Team Ice Cube: Anyone who saves Donut or Gelatin (Because I want to continue a good legacy of mines...)
Free Food: Foldy (BFB 11, and shes bland)
ABNTT: Grassy (Does not do anything, at all. At least Basketball does something.)
Community content is available under
CC-BY-SA
unless otherwise noted.