Jurassic World: Dominion Dominates Fandom Wikis - The Loop
Play Sound
"
Coiny: I got it! I can roll like a wheel, you're covered in ooze, and Donut's got a hole!
Pin: Uh, so what's our name?
Coiny: Wheel Ooze a Hole Bunch!
"
 
W.O.A.H. Bunch (short for "Wheel Ooze a Hole Bunch", also meaning "We'll Lose A Whole Bunch") is one of the three teams in Battle for Dream Island Again. At the very beginning of the season, it consisted of all the newbies in BFDIA. Later in the first episode, everyone except Donut switched to what is now known as Team No-Name. Then Coiny and Pin switched, thus having three members. Over time, the once smallest team would go on to be the largest team after "The Long-lost Yoyle City".
Members
Eliminations
Strategies
Considering how little in numbers they were, it makes sense how W.O.A.H. Bunch was a very minimalist team, using whatever they have near. This strategy seems to have a 50/50 chance of success, as show by their Team average ranks. Examples of said minimalism is simply crushing Yoyle berries into a stew in contrast to Team No-Name's over-complicated stew, having their Dream Island be a glorified arts-and-crafts project (which would have failed if not for Coiny's sabotage), and simply walking to Yoyle Mountain instead of using a Van or Puffball (though the latter was involuntary).
Coverage
In "Yeah, Who? I Wanna Know", the team is formed when everyone except Donut moves over to the larger team. Coiny decides to switch in order to avoid Firey and everyone on the team encourages Pin to move to switch. The trio of course loses to the team of 19 in the tug of war challenge and is up for elimination.
In "Get Digging", Donut is eliminated from the team. Teardrop was forced to join the team by Pin and Coiny, and Coiny's prize of yoyleseeds led to their first win.
In "Insectophobe's Nightmare 3", after taking Needle, they faced another loss in the bug killing challenge.
In "Zeeky Boogy Doog", Teardrop gets both the most likes and dislikes and is eliminated. Now at 3 members to Team No-Name's 16. They decide to take on two new members rather than their usual one, this time taking Yellow Face and Bomby. In the challenge, they create a farm version of Dream Island that was sure to lose. However, they succeeded once again with Coiny and Bomby's collaboration in destroying the opposition's Dream Island.
In "Get in the Van", they are tied for the largest team with Team No-Name, due to their team now having seven contestants, after taking in Spongy and Nickel, and four more members left Team No-Name to form the team FreeSmart. During the challenge, the team simply walks to Yoyleland.
In "No More Snow!", the team continues their journey to Yoyleland, losing Pin, Spongy, and Needle along the way. With the HPRC destroyed, they work with Ruby and Book to crank a new one.
In "It's a Monster", with the HPRC back, they recover their dead teammates and keep walking. However, they realize that walking might take too long and decide to threaten Puffball into flying them to Yoyleland. This plan fails when Needle nervously freezes up and Puffball recovers Gelatin so that he can freeze W.O.A.H Bunch. Eventually, Yellow Face unfreezes and continues the trip alone, until he gets stuck in some glue left behind by the FreeSmart SuperVan.
In "The Long-lost Yoyle City", the rest of the team unfreezes and continues walking through the desert to Yoyleland. They meet up with Yellow Face along the way and have him die so that they can recover him later. With help from FreeSmart Van's magnet, they reach Yoyleland in a matter of seconds and climb to the summit in second place. Had the season continued, they would've become the largest team (with 7 members while Team No-Name would be cut down to 6), and the first team in BFDIA to win 2 consecutive challenges.
Wins and losses
| Episode | Win/Lose | Strategy |
| --- | --- | --- |
| "Yeah, Who? I Wanna Know" | Lose | Having only three members to the other team's nineteen, they of course lost in tug of war. |
| "Get Digging" | Win | Coiny's yoyleseeds allow his team to get yoyleberries without going all the way to Yoyleland. Pin then simply smushes them. |
| "Insectophobe's Nightmare 3" | Lose | They couldn't kill all of the bugs in their glass box before Team No-Name realized Bomby could blow them all at once. |
| "Zeeky Boogy Doog" | Win | Coiny uses Bomby to blow up the other team's Dream Island. |
| BFDIA 5 | Win (2nd) | They simply walk most of the way to Yoyleland and reach the summit. With help from the FreeSmart SuperVan's magnet, they manage to skip a lot of walking time from the desert. |
Vote history
Contestant
BFDIA 2
BFDIA 4
197 likes/

573 dislikes

-
363 likes/252 dislikes
335 likes/314 dislikes

448 likes

/153 dislikes
312 likes/387 dislikes
-

502 likes

/

440 dislikes

-
372 likes/210 dislikes
Trivia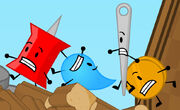 "Wheel Ooze a Hole Bunch" sounds similar to "We'll Lose A Whole Bunch", or alternatively, "We Lose A Whole Bunch". This turns out to be ironic considering Team No-Name lost more times.

The reason Coiny picked this name was because Coiny can roll like a wheel, Pin sweats ooze, and Donut has a hole.
This is actually true up until "Zeeky Boogy Doog" because their team continued to lose members and became the smallest team.

Just like in BFDI, Coiny is placed on a team that loses the first contest.
In "Vomitaco", the first original 4 contestants of this team can be seen being dropped into the TLC together.
W.O.A.H. Bunch is the team with the most limbless contestants at two, with Pin and Yellow Face.

Team No-Name was the previous record holder with also at two, but with Yellow Face switching from that team to this team, the two teams are tied with one limbless member each.
In the very next episode, Pin loses her arms (ironically because of Puffball), which sets the amount of limbless members in W.O.A.H. Bunch to two.
With Puffball (presumably) being eliminated in BFDIA 6, this team would've been the only team with limbless contestants.

W.O.A.H Bunch is the only team in the series that has been given cake when they weren't the losing team.
In the time between Donut's elimination and Bomby's joining, W.O.A.H Bunch was the first team outside of BFDI to have no recommended characters. The second team would be the Have Nots after Taco's elimination.
When Puffball was eliminated, W.O.A.H. Bunch became the largest team.
This is the only team Donut has been on without Barf Bag.
In BFB, iance and A Better Name Than That are the only teams that don't have any contestants from this team, not counting Death P.A.C.T., which has no BFDIA contestants at all.
Teardrop and Spongy are the only members of this team in BFB after the split.
In "The Hidden Contestant", it's revealed that Profily was apparently a member of this team.
Teardrop is the highest ranking W.O.A.H. Bunch member in BFB, coming in 3rd place for the season.
The team was referenced in "You Know Those Buttons Don't Do Anything, Right?" when Coiny wants to recreate the original W.O.A.H Bunch, along with even attempting to give his team the same name.
Spongy is the only member of this team to not compete in TPOT.
Gallery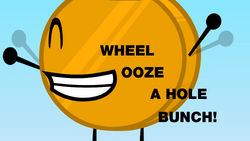 Click here to view the gallery.
---
Teams

TFI
Murderer Trout • Yelling Beavers
BFDI
Squashy Grapes • Squishy Cherries • Another Name
BFDIA

FreeSmart

FreeSmart • Team No-Name • W.O.A.H. Bunch
BFB
A Better Name Than That • Beep • Bleh • Death P.A.C.T. • Free Food • iance • Team Ice Cube! • The Losers! • Have Cots • Have Nots • Newbie Alliance
TPOT
Are You Okay • Death P.A.C.T. Again • Just Not • Team8s • The S! • The Strongest Team on Earth. • Tear Drop